Obama open to short-term deal on debt ceiling. Here are five ideas.
The scramble on Capitol Hill to come up with a solution to the nation's debt crisis produced a surprise announcement from the White House Wednesday: Contrary to previous statements, President Obama would support a short-term deal to raise the debt ceiling.
White House Press Secretary Jay Carney added an important caveat, however. The president would only sign the short-term deal if it was a means to buy time to finalize a longer-term deal without running afoul of the Aug. 2 deadline.
Suddenly, Washington is awash in prospects for short term deals. Here are five: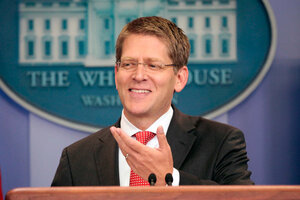 Pablo Martinez Monsivais/AP
1.

Short-term fix, long-term deal

This is the president's new line in the sand: He'll back a short-term fix only to buy time for longer-term reform.

The new framework requires first that both sides "agree to something significant, then take the time needed to finalize details," Mr. Carney said on Wednesday. But there can be no extension without "a firm, committed agreement on something big," he added.

By short term, the White House means days, not weeks or months.