Who's who on Congress's debt 'super committee'
Congress has created a special super committee to devise a way to cut at least $1.2 trillion from US spending in coming years. Its real name is the Joint Select Committee on Deficit Reduction, and its deadline is Nov. 23. If a majority of the bipartisan, bicameral committee approves the plan, it goes to the House and Senate for a vote, and they must act by Dec. 23. If the plan is voted down, automatic spending cuts are slated to occur.
Here are the 12 lawmakers serving on the super committee.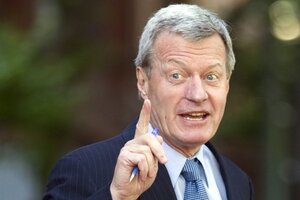 Evan Vucci/AP/File
1.

Sen. Max Baucus (D) of Montana

Senator Baucus chairs the Senate Finance Committee, which has a portfolio that includes Medicare and tax policy – two areas that are likely to be of interest to the super committee.

Though some Republicans decry Baucus as a partisan yes-man, his record on the Finance Committee speaks otherwise. Often to the dismay of Senate Democratic leaders, he has worked successfully on numerous pieces of legislation with the top Republican on the Finance Committee, Sen. Charles Grassley of Iowa, including on the 2001 Bush tax cuts. His committee is also the one that works, almost annually, on a plan to prevent the Alternative Minimum Tax from hitting middle-class taxpayers.

Baucus has also been privy to previous talks about possible changes to Social Security, and he became the Senate Democrats' lead critic of the push to privatize the program for retirees. His staunch opposition to that idea did not endear him to Republicans.

Baucus served on President Obama's bipartisan deficit-reduction commission, which came out with its blueprint in December 2010. Former Republican Sen. Alan Simpson, who co-chaired the commission, said Baucus rarely participated and frequently skipped meetings. Baucus did not support the commission's plan in the end.