'Zero job' economy: 11 ways Washington can fix it
A stagnant job market has ramped up pressure on President Obama and Congress to find solutions. A Sept. 2 report from the Labor Department hammered the problem home: The US economy produced no net jobs in August. So, what can be done? There's no shortage of policy ideas.
Here are 11 that include controversial proposals plus others that might win bipartisan support.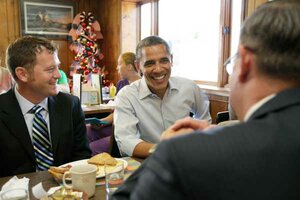 Carolyn Kaster/AP/File
1.

A regulatory 'big bang'

The idea would be decisively to change the tone of the Obama administration.

"What has stymied business, demoralized business is the vast proliferation of regulations," from health care to the National Labor Relations Board, says Ken Mayland, president of ClearView Economics near Cleveland. Rolling back some regulations, and putting a moratorium on new rules, could help signal that "business friendly" is President Obama's new middle name.

Opponents of this approach argue that watering down regulations shouldn't be a price required for job growth, and that lax oversight helped foment the financial crisis in the first place.

But business groups welcomed a move by the Obama administration on Sept. 2 to withdraw proposed ozone air-quality rules, and regulations are one arena Mr. Obama can affect without the need for legislation.