Huntsman a spider? 7 politicians with Google problems (besides Rick Santorum).
Members of the gay community responded to GOP presidential candidate Rick Santorum's less-than-flattering words about them by getting revenge on Google. A Google search for his name yields a less-than-flattering definition. But we're drawn to the moral of the story: casual Internet searching without context can be problematic for the subject of the search. Here are seven other politicians whose names yield curious search results.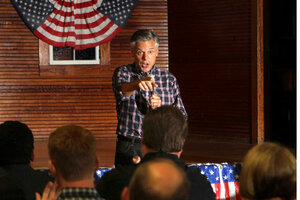 Jim Cole/AP
1.

Former Utah Gov. John Huntsman

Googling only Mr. Huntsman's last name could be an arachnophobe's nightmare. That's because Huntsman is a family of spiders so named because of their speed and method of hunting. They're also called giant crab spiders, if that gives you any indication of their grisly appearance.