How the Keystone XL pipeline would help the US, and why some oppose it
The Obama administration announced on Thursday it was delaying construction of the Keystone XL oil pipeline, a proposed Canadian project so rich in promised jobs, tax revenues, and oil imports that its approval seemed assure. But the proposal to bring crude oil from Alberta's tar sands to refineries in Texas involved a pipeline traversing America's heartland, including an environmentally sensitive region atop the vital Ogallala aquifer.
Delaying the project to examine an alternative route around the aquifer appears the safest political move for the moment, though it won't give President Obama immunity from criticism. Here is some background on the pipeline project.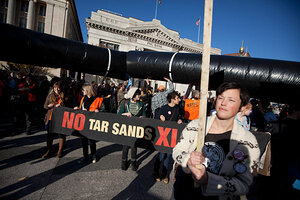 Evan Vucci/AP
What is the Keystone XL pipeline and what will it carry?

The proposed $7 billion extension of an existing pipeline running from Alberta to refineries in Illinois would be, at 36 inches in diameter and 1,900 miles long, the largest single pipeline in North America.

Construction of the Keystone XL would actually consist of connecting two new sections to the existing Keystone pipeline traversing the Great Plains. If approved, it will carry "dil-bit," or diluted bitumen, an acidic crude oil derived from tar sands mixed with a diluting agent that allows the resulting combination to flow more easily through the pipeline.

The dil-bit will flow from the Western Canadian Sedimentary Basin in Alberta, the largest and richest source of petroleum in North America, to refineries and distribution terminals in Nederland and Port Arthur Texas, two crude oil distribution hubs near the Gulf coast.

The pipeline will also tap American crude extracted from the Bakken oil shale formation in the Williston Basin in Montana and North Dakota. An uplink to the Keystone XL is planned for Baker, Mont., at the southern tip of the Bakken formation.