A year of oops: five big political gaffes of 2011
There's nothing like a presidential campaign cycle to bring out big political gaffes – at times injecting doubt about candidates, but also offering some much-needed comic relief and glimpses of humanity. 2011 had some doozies, and some of the most memorable actually weren't on the campaign trail.
GOP presidential candidate Michele Bachmann, who said the "shot heard round the world" was fired in New Hampshire (correct answer: Massachusetts), nailed the politicians' dilemma perfectly: "People can make mistakes, and I wish I could be perfect every time I say something, but I can't."
Here are five of the biggest political "uh-ohs" of 2011: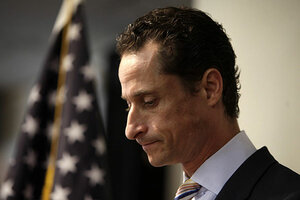 Seth Wenig/AP
1.

Anthony Weiner's bizarre Twitter lesson

In the digital age, sexual missteps no longer even have to be in person, as former Rep. Anthony Weiner (D) of New York proved with "Weinergate" – the tale of a suggestive Twitter photo that led to revelations of other indiscretions.

Mr. Weiner, a tough-talking Democrat who rarely met a camera he didn't like, at first denied that he had tweeted the photo to a college student. Then, he indicated he could not say "with certitude" whether or not the photo was of him. Finally the lawmaker, who is married, admitted to sending the picture and, almost anticlimactically, resigned.

Perhaps not coincidentally, @RepWeiner hasn't tweeted since June 1, about two weeks before he announced his resignation. His last public message: "On with Rachel tonight. Gonna talk about Trump eating pizza with a fork! #DudeYoureANewYorker!"