Gas prices fact check: Six ideas in Congress, but can they work?
Soaring gas prices have all sorts of deleterious economic effects: lighter wallets, a drag on a still-recovering economy, and more petrodollars flowing into the coffers of foreign governments. But they have also shown a consistent and significant ability to do one other thing: push members of Congress over the deep end.
"It's like vaudeville or burlesque," says Tom Kloza, chief oil analyst at the Oil Price Information Service. "It's a clown car of different things that are being said in response" to rising prices. Here's the experts' take on six ideas floating through Congress – and one that isn't.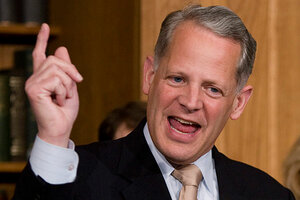 Evan Vucci/AP/File
1.

Stop subsidies to oil companies

Democrats have engaged in some flights of energy fancy, experts say. For example, Rep. Steve Israel (D) of New York tweeted his remedies to higher gas prices: "Need sensible approach to lower gas prices: stop subsidies, fight speculation, tap into" the Strategic Petroleum Reserve.

The nonpartisan Congressional Research Service has already questioned the effect of stopping subsidies. Eliminating $4 billion in subsidies for a multitrillion dollar industry would result in impacts of only a "small scale," it said.

Moreover, those effects would potentially raise prices, it added: Ending subsidies would "have the effect of decreasing exploration, development, and production, while increasing prices and increasing the nation's foreign oil dependence."