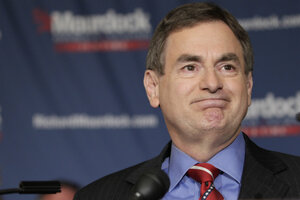 AJ MAST/AP PHOTO
2.

Indiana: Tea party fells a 'RINO'

In a stunning upset, tea party-backed Indiana Treasurer Richard Mourdock defeated six-term US Sen. Richard Lugar on May 8, winning the GOP primary by more than 20 percentage points.

Respected as a statesman in the Senate, Senator Lugar was a top target for tea party activists, angered by his votes to raise the national debt limit, open college scholarships to the children of illegal immigrants, and confirm President Obama's US Supreme Court nominees. Lugar also ran into trouble for no longer maintaining a residence in his home state.

National tea party groups backed Mr. Mourdock with endorsements, a get-out-the-vote effort, and ad campaigns that described Lugar as a Republican in Name Only (RINO), out of touch with the state.

"Richard Mourdock's victory truly sends a message to the liberals in the Republican Party," said Chris Chocola, president of the Club for Growth, an antitax group that, along with affiliates, spent more than $2 million in the Indiana primary. "Voters are rejecting the policies that led to record debt and diminished economic freedom, and they will continue to be rejected in elections throughout America."

Mourdock now faces Rep. Joe Donnelly (D) in a general election that Democrats say they are better positioned to win with a tea-party hardliner in the race. Throughout the campaign, Mourdock criticized Lugar's record of working with Democrats. In an interview with Fox News after the vote, Mourdock said Republicans need to take back a majority in the Senate. Then, he added, "bipartisanship becomes having Democrats come our way."