Obama in New York: What he'll discover at One World Trade Center
Obama's visit to New York Thursday isn't only about the fundraiser hosted by Sarah Jessica Parker. He and the first lady will also be at One World Trade Center, which replaces the twin towers that fell on 9/11.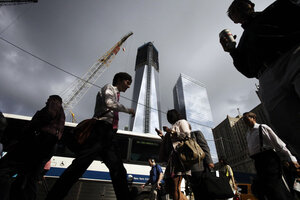 Mark Lennihan/AP
One World Trade Center is more than just the tallest building in New York: It is a symbol that terrorism cannot win and of the rebuilding of lower Manhattan.
So perhaps it's not surprising that President Obama arrives in New York Thursday afternoon for a briefing on the progress of the iconic 104-story tower that replaces the World Trade Center towers, destroyed on 9/11.
"Every major candidate for office in this country has discovered the importance of coming to this site," says Mitchell Moss, a professor at the Robert F. Wagner Graduate School of Public Service at New York University. "It associates them with the fight against Al Queda and the renewal of New York."
That may be one reason that Mr. Obama, accompanied by first lady Michelle Obama, will have plenty of company. New Jersey Gov. Chris Christie (R), who has been critical of the president in the past but who sits on the board of directors of the Port Authority of New York and New Jersey, New York Gov. Andrew Cuomo (D), and Mayor Michael Bloomberg will also be in attendance.
The briefing, which will take place on a relatively low floor, won't take long: The steel has already been erected for the 104th floor, and the topping out ceremony for the $3.2 billion building is expected soon. Obama might be told that only 55 percent of the building is leased out, leaving plenty of room for any federal agencies looking for space. And Obama, who will need union help for his reelection campaign, might get a chance to shake hands with a few of the 1,200 mostly union hard-hats who are erecting the building.
If he has time, Obama's tour guides might show him some ways that the architect, Skidmore, Owings & Merrill, improved the 3-million-square-foot building in the wake of the attack on the twin towers.
For example, there is less reliance on steel and more use of concrete, to make sure the core of the building is resistant to wind, earthquake, and fire. Air intakes for the building are about 20 stories up, for added security.
Obama might also get to see the widened fire exits and the hardened stair landings where people in wheelchairs or with physical disabilities can wait for assistance. The building itself has an emergency stairwell for use by firefighters alone. During 9/11, firefighters carrying heavy fire hoses had to climb the stairs even as people were descending in the stairwells. Service elevators in the new building have water-resistant controls that are in a smoke-resistant enclosure so that first responders can get to them, if necessary.
Some tenants have already signed up for space, with publisher Conde Nast agreeing to take 21 floors, or about 1 million square feet of space. The Chinese real estate company Vantone is taking 200,000 square feet.
Tenants will find themselves in a building that David Childs, a consulting design partner at Skidmore, has described as having a simple iconic shape in the same fashion as the Washington Monument.
The building is much simpler than the "Freedom Tower," designed by architect Daniel Libeskind. That design was eventually abandoned.
After their briefing, Obama and the first lady will attend two fundraisers, including one hosted by Sarah Jessica Parker, famous for her role in the HBO show "Sex in the City."
Mr. Moss says it might be too cynical to suggest that Obama visited the World Trade Center site because he would be in New York attending the fundraisers.
"The federal government has a lot of money invested in rebuilding the site," he says. "He has a legitimate reason to what is being done with federal money, insurance, and private capital."