Before Stockton: five other big financial crises for US municipalities
Stockton, Calif., recently became the largest US city in history to declare bankruptcy, and it may not be the last. A perfect storm of a low tax receipts, high retiree obligations, cash-strapped state budgets, and ill-advised fiscal decisions has swamped towns this year, big and small, from coast to coast. The result is an unprecedented number of municipalities up against severe financial difficulties.
Here's a look at some of the most notable financial collapses and near-collapses for US municipalities over the years.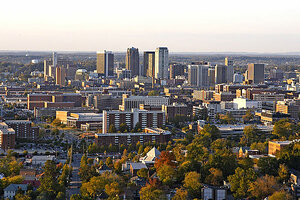 Dennis Lathem/Birmingham Regional Chamber of Commerce/AP/File
1.

Jefferson County, Ala.

Home to Birmingham, Alabama's largest city, Jefferson County sought to reorganize its finances in fall 2011 under Chapter 9 of the federal bankruptcy code. A failed overhaul of its sewer system and other bad decisions left the county reeling under more $4 billion of debt and unable to raise taxes, fees, or payments for bonds issued by Wall Street banks. An earlier decision by the state Supreme Court striking down a local income tax has forced county officials to try to persuade the state Legislature to authorize another tax or warn of new budget cutbacks.