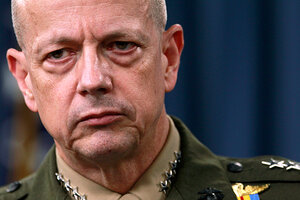 Haraz N. Ghanbari/AP/File
2.

How did Gen. John Allen, commander of US forces in Afghanistan, become embroiled in the scandal?

In trying to trace the anonymous e-mails being sent to Kelley, FBI investigators found between 20,000 and 30,000 "potentially inappropriate" e-mails between Kelley and Allen.

Allen is currently under investigation by the Pentagon's Office of Inspector General (IG), but remains in command for now. He has denied an improper relationship, and the White House has praised the job that Allen has done in Afghanistan. But before the scandal broke, Allen was nominated to become Supreme Allied commander, Europe, and now, Defense Secretary Leon Panetta has asked President Obama to put that nomination on hold, pending the Pentagon IG investigation. Also, with the urging of Secretary Panetta, Senate confirmation hearings are proceeding for Gen. Joseph Dunford, currently the No. 2 officer in the Marine Corps, to succeed Allen in the top Aghanistan post.