Republican Party 2.0: 4 GOP leaders share ideas for political upgrade
After President Obama captured a majority of the minority vote on Nov. 6, Republicans began searching for ways to recalibrate their image as the party for old, white men. Strategists say it is less an issue of philosophy and more about articulating the party's message in a way that includes rather than excludes the diversifying US electorate.
Here, four prominent Republicans share their visions for how the Republican Party should adapt.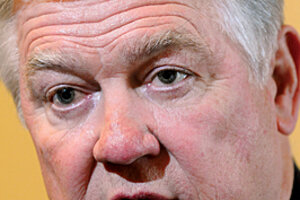 AP
Haley Barbour, Former RNC chief

One need of the Republican Party moving forward is a revamped immigration policy, says Haley Barbour, a former chairman of the Republican National Committee and former governor of Mississippi.

Mitt Romney's position, which included a call for illegal immigrants to "self-deport," led to 71 percent of Hispanic voters choosing President Obama. Instead, the party should frame its appeal in economic terms and acknowledge that a major guest worker program for foreigners who are in good standing and already have jobs in the United States is useful, Mr. Barbour suggests. "We need immigration reform that is good economic policy," says Barbour, who was also political director in the Reagan White House. "If we do that, the political problem will take care of itself."

The party also needs to retool its voter-turnout operation, he says, noting that Mr. Romney got at least 1 million fewer votes than the GOP's John McCain did in 2008. "The first thing is to be honestly and brutally frank in assessing why, and then going to work doing something about it."

His advice is for the GOP to stick with its bread-and-butter basic positions as guardians of people's pocketbooks and as builders of a strong economy – and to avoid tripping over sensitive social issues, as did Senate candidates Todd Akin in Missouri and Richard Mourdock in Indiana with their inartful comments about rape. "When you have stupid things said by candidates like Mourdock and Akin, they do spill over and hurt other candidates," Barbour says.

– Dave Cook, Staff writer