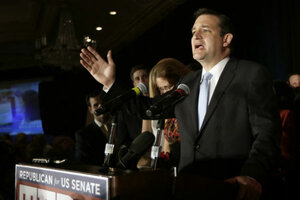 David J. Phillip/AP
Ted Cruz (R) of Texas

Will tea party-backed Sen. Ted Cruz be a no-compromise conservative? As Americans push for more bipartisan cooperation in Washington, Senator Cruz's brand of conservatism could make him a polarizing figure.

"What it takes is backbone, the willingness to stand and fight for those principles in the face of opposition and derision," Cruz told the National Journal, summarizing how he would fight for the conservative agenda. "Of those who have firm principles, even fewer have the backbones to stand for those principles when the heat is on."

In the primary, Cruz upset Republican Lt. Gov. David Dewhurst, beating him by 14 percentage points. He then defeated Democratic challenger Paul Sadler by 16 percentage points in the general election.

To Cruz, the election presented voters with opposite visions for America's future.

"Two visions: We can continue down the road of the Obama Democrats, towards more and more spending, debt and government control of the economy and our lives," he said in his speech at the Republican National Convention. "Or we can return to the founding principles of our nation – free markets, fiscal responsibility, and individual liberty."

Party leaders hope that Cruz, a Cuban American, will appeal to a younger generation of Hispanic voters, a bloc that the GOP has failed to attract at the polls. He is the first Hispanic to be elected to the Senate from Texas and the third to serve in the Senate.

Cruz entered the Senate race after three years of practicing law at a Houston-based law firm where he specialized in US Supreme Court and national appellate litigation. During that time, he also taught Supreme Court litigation at the University of Texas School of Law.

Cruz served as solicitor general of Texas from 2003 to 2008, prior to entering private practice. He also worked in the George W. Bush administration, joining the 2000 campaign as a domestic policy adviser. He served as associate deputy general at the Department of Justice and then director of the Office of Policy Planning at the Federal Trade Commission.

Cruz was assigned to five Senate committees for the new session: Armed Services; Commerce, Science, and Transportation; Judiciary; Aging; and Rules and Administration.