Gay marriage battlegrounds: 7 states to watch
Since the US Supreme Court's rulings in June 2013, gay marriage has become legal in six states: New Jersey, Hawaii, Illinois, New Mexico, Oregon, and Pennsylvania. In all, 19 states plus the District of Columbia recognize same-sex marriage.
Federal judges have invalidated bans in six other states – Utah, Oklahoma, Texas, Virginia, Michigan, and Idaho – but those decisions have been stayed pending appeals. In Arkansas, a state judge struck down that state's ban; the ruling was stayed and is under appeal.
In other states, efforts are under way to repeal constitutional bans via ballot measures. One state, Indiana, may be moving toward stronger defense of traditional marriage, though that effort has been set back. Ultimately, the issue appears headed for the US Supreme Court.
Here's a rundown of action in key states, updated on May 20, 2014.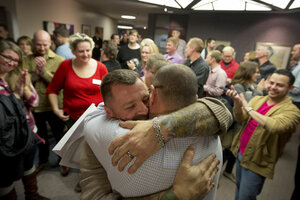 Kim Raff/AP
1.

Utah

[Updated Jan. 6, 2014] Utah became a "state to watch" in the gay marriage battle on Dec. 20, 2013, when a federal judge ruled that the state's ban was unconstitutional. Hundreds of Utah gay couples then flocked to get married. But on Jan. 6, the US Supreme Court put a halt to the marriages, pending the final outcome of an appeal to the 10th Circuit Court of Appeals in Denver.

Utah voters, by a 2-to-1 margin, agreed in 2004 to amend the state constitution to enshrine marriage as between a man and a woman. Three same-sex couples subsequently challenged the amendment, including a couple who married in Iowa (where gay marriage is legal) but who wanted their union to be recognized in Utah.

US District Judge Robert Shelby sided with the gay couples in his December ruling. In a sweeping decision, he said Utah's constitutional amendment violates gay and lesbian couples' 14th Amendment rights to equal protection and due process under the law. He also wrote that the state did not show that marriages of heterosexual couples would be affected in any way if same-sex couples were allowed to wed.

Utah has been the first politically "red" state to see same-sex marriages take place within its borders. The Church of Jesus Christ of Latter-day Saints has its headquarters in Salt Lake City, and Mormon leaders have been in the forefront of campaigns to defend traditional marriage and prevent gay marriage. About 62 percent of state residents identify themselves as Mormons, according to The Salt Lake Tribune.

In a 2012 poll, 28 percent of Utah adults favored legal marriage for gay couples, and 29 percent wanted no legal recognition at all. The rest favored a form of civil union, but not marriage, according to the survey by the Center for the Study of Elections and Democracy, at Brigham Young University (BYU).

Among Mormons, opinion has evolved. A recent BYU poll found 54 percent of Mormons now favor civil unions for same-sex couples. In 2004, 69 percent of Mormons opposed any legal recognition for same-sex couples; that number has dropped to 38 percent.