Four Americans and their brushes with Obamacare
The Affordable Care Act, also known as "Obamacare," will touch the lives of millions of Americans. Many will find that it helps pay for health insurance they would otherwise be unable to afford, or keeps them from being denied coverage because of preexisting health conditions. Others will see their existing policies canceled because they don't meet ACA standards, or their premiums increase due to new market conditions.
These effects will be felt most by people who buy their insurance themselves, as opposed to getting it through their jobs. Here are four real-life stories that show a little bit of what's happening in households throughout the country.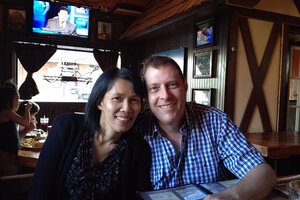 Courtesy of Ryan Smith
1.

Ryan Smith of Cape Coral, Fla.

At the end of October, Ryan Smith received a letter from Florida Blue, the state's largest health insurer, informing him that his policy would be canceled after it expires next June.

Mr. Smith is one of 300,000 members of Florida Blue to receive such cancellation notices, as the insurer began to revamp its plans to comply with requirements of the Affordable Care Act, which goes into effect starting January 2014.

That letter prompted Smith, who runs a metal and plastic parts business out of his home, to begin shopping for a new policy. What he found was that he and his wife, Ning, a cook who specializes in Thai cuisine, would most likely pay double for their health insurance, from the $260 a month they pay now to something around $500, Smith says.

The uproar that ensued as canceled policies multiplied – to at least 4 million, by some counts – led President Obama on Nov. 14 to concede that an Obamacare fix was needed. Now, insurers such as Florida Blue will be able to offer people such as Smith their old plans for another year, the president said.

"If I can keep my current plan, then I probably will keep it," Smith said by e-mail the day after the announcement. "Not sure what Florida Blue will do though. It may be too late for them to reverse course."

That puts Smith in a holding pattern. And with all the snafus at HealthCare.gov, the federal online exchange where people from 37 states are supposed to be able to shop for health plans, he wonders if more changes lie ahead.

He has been on the Obamacare exchange, but says he didn't find a suitable plan. The open market plans are a little cheaper, he found, because they have a more stable pool of nongroup members – at least for now. And, frustratingly, his income from his small business was 406 percent of the federal poverty level in 2012 – or just about $1,000 too much to qualify for a federal subsidy to help defray costs of health coverage.

Still, given his past experience with "individual" health plans – a market pool notoriously volatile for insurers – he's not altogether upset by the changes that have come with Obamacare.

"In some ways, I feel better, because I can't get rejected," he says. "That makes me feel a lot better, actually. Yeah, I'm paying more money – maybe $200 a month plus – and I don't like that. But I'm more confident I'll have insurance – companies won't be able to drop me for some little rule or something."

When Smith and his wife, who are both in their early forties and who do not have children, relocated to Cape Coral from West Des Moines, Iowa, in 2012, they say they were refused coverage by Golden Rule, a division of UnitedHealthcare, which serves 27 million members. Smith takes lisinopril for high blood pressure and pravastatin for high cholesterol, so when a broker then hooked him up with a Humana policy, the Kentucky-based insurer serving more than 11 million customers said no to him, too.

Despite these preexisting medical conditions, after a few months in their new home the Smiths were approved for a bare-bones, high-deductible policy by Florida Blue. Now, just a year later, he has to go through this process again.

"It's all myself – no employees," Smith says. "So if I do get sick or anything – I mean, if I'm down, I'm in trouble."

But he and his wife are happy to be in Florida. They even hope to open a Thai restaurant in the near future. And although they'll be paying more for insurance, they feel a bit more secure.

Smith is shopping for a "bronze plan" now, the cheapest of the metallurgically-labeled coverage levels that many private insurers are using, echoing the labels of Obamacare. With the cheapest plan, Smith and his wife will each have a $6,350 deductible, or a $12,700 yearly out-of-pocket cost for health services they use. Until they cross that threshold, this type of plan pays only for a few primary-care visits and a basic drug benefit.

"I have more confidence that I'll have real insurance now," he says. "You know, I don't like to pay more, but I have more confidence that I'm going to have some coverage that won't get yanked from underneath me."

– Harry Bruinius, staff writer