The 'billionaire primary': Who's backing whom?
Mega-wealthy donors, many of them billionaires, are expected to play an unprecedented role in the 2016 presidential race. Some donate directly into the coffers of political action committees known as "super-PACs," which make expenditures on behalf of candidates but cannot coordinate with their campaigns. A super-PAC can accept unlimited contributions from individuals.
In 2012, Republicans Rick Santorum and Newt Gingrich lasted longer than expected in the primaries, because of support from wealthy benefactors, Foster Friess and Sheldon Adelson, respectively.
Others major donors work as bundlers, getting their friends to donate to their favored candidate's campaign. Those donations are limited.
This time, some mega-donors are already backing candidates. Others are still weighing their options. Here's a list of who's backing whom so far: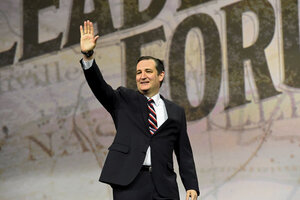 Harrison McClary/Reuters
1.

Robert Mercer: Sen. Ted Cruz (R) of Texas

Mr. Mercer, a hedge-fund magnate, is reportedly the main donor to a network of four super-PACs all backing Senator Cruz. Within a few weeks of Cruz's campaign launch on March 23, the pro-Cruz super-PACS, all containing the words "Keep the Promise," had raised an eye-popping $31 million.

A recent profile in The New York Times described Mercer as a "reclusive Long Islander," who shares with Cruz "a passion for unbridled markets, concerns about the Internal Revenue Service, and a skeptical view of climate change." Mercer's net worth is undisclosed. He is the co-CEO of the hedge fund Renaissance Technologies.