At convention, Democrats struggle with stereotypes – of other Democrats
Young black women ready to 'Bern it down.' A teenage boy for Hillary. A middle-aged small-business owner for Bernie.
These are just a few of the fervent Democratic voters who don't fit into the stereotypes dominating the news right now.
While it's useful to see larger trends, such as white millennials for Bernie, there is a far more colorful mosaic of activists on the streets of Philadelphia. Understanding that diversity can help guard against the fear and mischaracterizations that arise between parties, or even within a party.
A study in April found that these party stereotypes – which paint all Republicans as rich, old, southern Evangelicals and paint all Democrats as LGBT, African American, union members – are actually small minorities of each party.
"It's a rationalization of, 'The in group is good and the out group is bad,' " Shanto Iyengar, an expert on politics and public opinion at Stanford, told the Monitor last month. "You develop a negative stereotype and then just fill in the blanks."
Or you get to know some of them.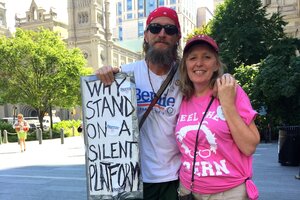 Story Hinckley/Staff
1.

'We don't want free stuff'

"I guess I would fit the stereotype hippie thing," says Sean Smith, a Bernie Sanders supporter from New Jersey. "I advocate for peace and love and all of that.

"But at the same time, my wife and I, we have a small business. She's also a freelance court reporter, we have two kids, and we own a home in a very mid(dle)-class-ish town in New Jersey. And I think the thing that people have to understand is that we don't want free stuff. What we want is for our tax dollars to work for all of us – to pay for things that benefit all citizens: Trump supporters, Clinton supporters, Sanders supporters, Gary Johnson supporters, Jill Stein supporters."

His wife, Patty Smith, adds:

"Most of the articles I see written keep saying how there's white, young supporters here for Bernie marching through the streets. It's not young and white. We're staying in an apartment with a young Latino couple. I'm 47. There was a woman who was about 72 years old with a cane, trying to walk at least a couple blocks with us in the 100-degree weather.

"I'm sorry," Mrs. Smith says as she begins to cry. "I start to get emotional because it's everybody and they just keep focusing on the Millennials, and it's just not true."