Trump's biggest executive actions, explained
After entering office, President Trump began issuing a flurry of executive orders and presidential memorandums that have set a new course for US policy. Trade, security, energy, health care, immigration – there are few areas that Mr. Trump's executive actions have not touched.
Quantitatively, Trump does not stand out from the pack. The new president issued 18 public executive actions in his first 12 days in office: more than Presidents Clinton, George W. Bush and Reagan, but less than President Obama. Such memorandums date back to George Washington. But presidential scholars Gerhard Peters and John Woolley with the American Presidency Project say Trump's early actions feel different than years past because of "the chaotic and rapid pace of their implementation."
Not all executive actions are created equal. In many cases, congressional legislation and funding would be necessary to carry through the intent of presidential memorandums (which have the authority to govern the action of government agencies) and executive orders (which require the president to cite specific constitutional authority). But if Trump's actions become laws, this administration could become as transformative as President Reagan's three decades ago.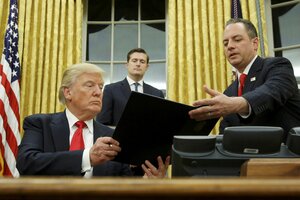 Jonathan Ernst/Reuters
1.

Reverse Obamacare – Jan. 20, 2017
ACTION
Shortly after his inauguration, Trump signed the Executive Order: Minimizing the Economic Burden of the Patient Protection and Affordable Care Act. It instructs the secretary of Health and Human Services and other agency leaders to waive, exempt, or delay any further implementation of ACA that would "impose a fiscal burden" on any state, individual, health insurer, or health-care provider.
ANALYSIS
At the top of his campaign agenda, this order is the first step to weaken Obamacare until Congress can repeal it. By directing agencies to interpret ACA legislation as loosely as possible, it may have a direct impact on ACA's individual mandate, which requires Americans to pay a fee if they are uninsured. The mandate excludes Americans who can prove financial hardship, and with Trump's executive order in place, the government may loosen the exemption qualifications. "The Trump executive order should be seen as more as a mission statement," writes The New York Times, "and less as a monarchical edict that can instantly change the law."