A new push on immigration roils the midterms – and House Republicans
Politics has long made immigration one of the most intractable issues in Congress. But now, campaign imperatives may be spurring action. Facing tough reelection battles, some moderate House Republicans are breaking with their party leaders to try to force votes on "Dreamers."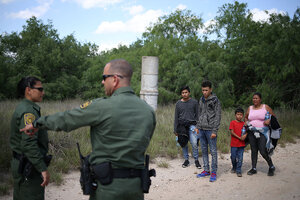 Loren Elliott/Reuters
Two months ago, after passing an enormous spending bill to fund the government, Congress seemed all but done for the year – ready to wrap things up in Washington and focus on winning reelection at home.
But now, the midterm election campaign – and the tight battle for control of the House – is sparking a late-season legislative push on immigration. An unusual effort by centrist House Republicans to force votes on measures to help the so-called "Dreamers" is putting the GOP's congressional leadership in a bind.
To supporters of the maneuver, it represents a boost for small-d democracy – and the potential to save the GOP's House majority. To opponents, it's a formula for disaster, exacerbating the party's internal rift on a hot-button issue, while advancing liberal priorities.
At center stage are the Dreamers, young unauthorized immigrants who came to the US as children. Some 690,000 of them are currently protected from deportation by the Obama-era program known as Deferred Action for Childhood Arrivals, or DACA. President Trump ended DACA last September, and gave Congress six months to pass a replacement. Congress failed, although litigation has been keeping the program alive temporarily.
Now, some House GOP moderates facing tough reelection races are urging another attempt at a fix. As they and their supporters note, helping Dreamers is popular with the public.
"A large majority of Americans support DACA, and there has to be a solution," says Republican strategist Rick Tyler, a former adviser to ex-House Speaker Newt Gingrich and Sen. Ted Cruz (R) of Texas.
It also could be key to the GOP's effort to keep the House majority. The rare maneuver to bypass leadership and bring legislation directly to the House floor is being deployed by some of the most endangered lawmakers in this election cycle: moderate Republicans. 
Trying to force a vote to protect Dreamers "makes absolute political sense for members who represent ethnically diverse districts," says former Rep. Tom Davis (R) of Virginia. "Basically, you say, 'Well, leadership, I like you, but I've got to survive, and I'm not going to survive if I go with your playbook.' "
Mr. Trump has expressed sympathy for Dreamers, but he has also insisted on twinning permanent legal status for them with other, tough immigration measures: full funding for the US-Mexico border wall, ending the visa lottery, and curtailing family sponsorship for visas. Cracking down on illegal immigration was a core Trump campaign promise, one that strongly resonates with his base supporters, who still chant "build that wall!" at his rallies.
The president's intense feelings on immigration came out last week when he reportedly berated Homeland Security Secretary Kirstjen Nielsen at a Cabinet meeting, saying she had failed to secure the nation's borders. Secretary Nielsen was said to have considered resigning in response.
To Trump critics, the president's posture on immigration reflects a nationalist worldview that appeals to his base on a deeply cultural level, and is key to energizing them for the midterms. GOP primaries this spring have reflected how much Trump has shaped mainstream Republican thought on immigration. For candidates campaigning in less-diverse districts, Trump-style rhetoric is now often the default.
But to a cohort of embattled, centrist House Republicans – including Reps. Carlos Curbelo of Florida, John Faso of New York, Jeff Denham of California, and Mike Coffman of Colorado – there's a different imperative. To survive reelection, they believe they need to be seen distancing themselves from Trump and trying to help their constituents, including DACA recipients and people sympathetic to them, even if they don't ultimately succeed in passing actual legislation.
Thus was born the initiative, led by Congressman Curbelo, and now joined by 17 other House Republicans, to file a so-called discharge petition that would bring four pieces of immigration legislation to the House floor for separate votes, in an unusual procedure known as "Queen of the Hill." The bill that gets the most votes would pass, as long as it received a majority.
House Speaker Paul Ryan opposes the petition, saying he doesn't want votes on legislation the president won't sign. "I don't want show ponies," he told reporters last week. Still, he said he wants to have a vote on immigration before the midterms.
To enact the discharge petition, a majority of the House – 218 members – would need to sign. That means Curbelo and his allies need to secure the support of 25 Republicans; the assumption is that all 193 House Democrats would sign.
The four pieces of legislation listed in the petition range from one that provides a path to citizenship for Dreamers with no tradeoffs, to a conservative bill that combines temporary status for Dreamers with deep cuts to legal immigration and stepped-up law enforcement. One of the four bills would be drafted by Speaker Ryan.
Some conservatives see this four-bill scenario as dangerous – not only because it would represent a takeover of the House floor by a faction of moderates, in concert with the entire Democratic caucus, but also because of the legislation that might result.
"This 'Queen of the Hill' structure gives maximum cover to immigration maximalists in Congress," writes Fred Bauer in National Review.  
Still, not all House conservatives are opposed to the move – such as Rep. Chris Collins of New York, a strong Trump ally who signed the discharge petition.
"We can't just do nothing," Congressman Collins told The Weekly Standard last week, adding that he's eager to find a solution for unauthorized workers in his district near Buffalo and Rochester.
Other Republicans who have signed the petition aren't running for reelection – including moderate Rep. Ileana Ros Lehtinen of Florida and now-former Rep. Charlie Dent of Pennsylvania – and so they face no potential consequences for participating. (Mr. Dent retired from Congress last Saturday, but his signature on the petition still counts as long as a special election isn't held to replace him.)
Even a leader of the conservative House Freedom Caucus who opposes the petition applauded his party's moderates for their hardball tactics. "I don't like it, but you know, I appreciate their tactical savvy," Rep. Jim Jordan (R) of Ohio told The Wall Street Journal.
Discharge petitions rarely work. The last time one succeeded was in 2015, when Congress revived the Export-Import Bank. But they can provide a path around gridlock, and perhaps even show Americans that the deeply unpopular Congress isn't moribund.
"What they've proposed is a really open process. Everyone gets their shot," says Neil Bradley, executive vice president and chief policy officer at the US Chamber of Commerce, which supports a path to citizenship for Dreamers. "That's a very small-d democratic way to do it."
Even if the end result is just a debate, Mr. Bradley says, "that still helps advance the purpose – if it gets us closer to a solution."