Trump, his critics, and the basic divide over the FBI
In calling for the investigation of his investigators, President Trump appears to have embraced the adage that the best defense is a good offense. How good an offense? Legal experts are weighing in.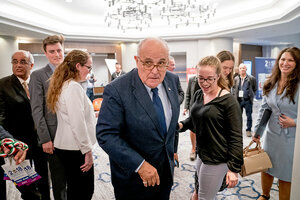 Andrew Harnik/AP
President Trump has been attacking his own Federal Bureau of Investigation for months. The fundamental assumption behind many of his charges is this: In its actions regarding the Russia probe, the bureau is propelled by political bias against him.
Mr. Trump's anger over an alleged FBI "informant" in his campaign is the latest example of this dynamic. On Sunday he tweeted that he would demand a Department of Justice investigation into whether agents dispatched a spy to infiltrate his campaign for political purposes.
As part of this probe the Justice Department should look into "if any such demands or requests were made by people within the Obama Administration!" Trump tweeted.
There are indications this bias charge is affecting US public opinion. Earlier this month a CBS News poll found a slight majority – 53 percent – of respondents agreed with the assertion that special counsel Robert Mueller's Russia probe is politically motivated. Trump's job approval ratings in general are as high as they've been in a year.
But the notion of an anti-Trump cabal within the FBI plotting to ensnare him strikes Trump critics and many legal experts as far-fetched. There's little evidence such a group exists, they say. If it does, it managed to bungle the job – forgetting to make public much information about the Trump campaign and Russia until after the election was over.
"The president has a view of everything being political and situational. And that's consistent with how he speaks. That's not actually how law enforcement works," says Andy Wright, an associate professor at Savannah Law School and former associate counsel to Vice President Al Gore.
Take the "spy." Last week, Trump commented on reports on conservative media that the FBI had implanted a source within his campaign, implying that the bureau had dispatched an agent or other human asset to actually work for the Trump team while covertly passing info back to bureau headquarters.
"This has never been done before and by any means necessary, they are out to frame Donald Trump for crimes he didn't commit," Trump tweeted.
Trump lawyer Rudy Giuliani quickly clarified the situation somewhat, saying in numerous interviews that the White House was not sure whether someone had actually been embedded within the campaign, or whether there was an informant at all. There had been some kind of "infiltration," Mr. Giuliani said.
That seems to match up closely with what's now public about the situation. The FBI tasked an American academic living in England who has been a long-standing informant to get in touch with three Trump campaign aides and inquire as delicately as possible about what they knew about Russia connections, and when they knew it.
The aides included foreign policy advisers Carter Page and George Papadopoulos. The former was well known to the FBI as a target of Russian espionage for years. The latter had already let slip to the Australian ambassador that he knew of "dirt" on Hillary Clinton.
This might still look suspicious if one believes in an anti-Trump FBI bias. But it's also possibly evidence of a bureau that's trying to step carefully. Sending an actual agent to interview the Trump officials would have set off alarm signals. Questioning them via a cutout was quieter. Indeed, none of this became public prior to the election. That's a basic question Trump critics ask: If there's an anti-Trump conspiracy, why didn't it release more abut the Russia investigation prior to the election, when it might have done Democrats some electoral good?
"One could make a hypothetical in which the president is the wronged party here. The problem is we have zero evidence of that," says Professor Wright of Savannah Law School.
Meanwhile, Trump's demand that the Justice Department investigate whether his campaign was infiltrated for political purposes by the Obama administration itself could shatter a long-standing political norm.
Since Watergate, presidents have hesitated to use overt presidential pressure on the Justice Department to direct specific law enforcement cases. That smacks of using the tools of US justice for political purposes – something Richard Nixon tried to do, to his eventual regret.
One big question here is how will the Department of Justice respond? On Sunday, Deputy Attorney General Rod Rosenstein did give in somewhat, announcing that he would expand an existing inspector general's investigation to include this question.
If Trump demands more than that, it could set off a chain of resignations, possibly including Mr. Rosenstein and perhaps even Attorney General Jeff Sessions.
Another big question is obvious: what moves will Mr. Mueller make in the weeks ahead? Further indictments could make the "spy" issue seem small. Or Mueller could wrap up the case and say he found nothing incriminating.
"I keep thinking of the term, 'history is contingent'," says Chris Edelson, an assistant professor of government at American University in Washington. "There are many different pathways. When you read about the past you know how it is going to turn out. When you're living through it, you don't know."