Why Trump canceled N. Korea summit: Three questions
President Trump's abrupt decision to scrap the highly anticipated meeting with Kim Jong-un was both unexpected and entirely forseeable – and raises questions about what may come next.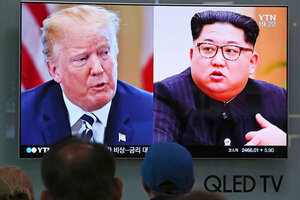 Ahn Young-joon/AP
President Trump's abrupt decision to cancel his upcoming summit with North Korean leader Kim Jong-un was surprising and predictable at the same time.
The withdrawal was surprising, if only because Mr. Trump had seemed so invested in it, from the moment he orchestrated its dramatic announcement by South Korean officials visiting the White House. True, the president often said it was possible the meeting would be a flop. But he had also, showman-like, built it up as a big event that his predecessors would not have been able to pull off. As recently as May 10, when announcing the meeting would be held in Singapore, Trump had tweeted: "We will both try to make it a special moment for World Peace!"
Yet the summit's eventual collapse was also predictable, because the whole thing was happening too fast. Summits between world leaders are highly choreographed events, with agendas and logistics hammered out beforehand. In this case, Trump had hastily accepted a North Korean offer of a meeting, and then agreed to a face-to-face summit within weeks. As it became clear that Pyongyang and the White House had vastly different understandings of what North Korean "denuclearization" meant, the prospects for the meeting began to diminish.
In the aftermath, here are some important questions to consider: 
Did either side give anything up?
One view of the withdrawal holds that nobody made any concessions, because negotiations had not happened yet – so the US and North Korea are still in the same place as before in terms of their often-acrimonious relationship. If anything, the North Koreans gave a bit here. After all, they released three US citizens they held as prisoners as a sweetener.
"That was a beautiful gesture and very much appreciated," wrote Trump in his letter to Mr. Kim cancelling the June 12 summit.
Another way to look at it is Kim has already received what he wanted. In accepting a one-on-one meeting, Trump had treated him as an equal on the world stage. His nuclear arsenal – a "treasured sword," in North Korean rhetoric – had forced America to the table. He met with South Korean president Moon Jae-in in an emotional summit that seemed almost a reunion. He traveled to China to consult officials from his nation's most powerful friend. The mere prospect of a summit with the US seems to have lessened North Korean isolation. Will that dynamic now be reversed?
How will the cancellation affect US relations with other countries?
If the Trump-Kim summit had a midwife, it was South Korea. President Moon was elected as a peace candidate and worked tirelessly to bring all the parties here together. His handshake and border crossing with Kim was a sensation in his own country. For him, the cancellation of the June 12 summit must be a difficult development.
North Korea could now take advantage of that situation to try and drive a wedge between South Korea and the US. That is a longstanding strategic aim of Pyongyang. After all, South Korea is unlikely to enthusiastically endorse Trump's move. At the same time, Trump may blame South Korea for exaggerating the chance that the North might really put its nuclear technologies on the negotiating table.
Then there is China. Trump put his aggressive China trade policy on hold in part to try and convince Chinese officials to push North Korea towards disarmament talks. If that's not going to happen, will US tariffs against China follow?
What next? 
Trump's letter to Kim said the meeting was off due to the "tremendous anger and open hostility" of recent North Korean statements about Vice President Mike Pence and the prospects of denuclearization. At the same time, the letter seemed almost wistful about what might have been. "If you change your mind having to do with this most important summit, please do not hesitate to call me or write," Trump wrote.
Perhaps Kim will tone down North Korea's rhetoric, and a rescheduled meeting will occur later in the year. But the core issue here has been clarified, if anything. The Trump administration has continued to speak about denuclearization as something that needs to be total, and quickly accomplished. North Korea has rejected that approach. Meanwhile, Trump has resumed making thinly veiled threats.
Our military is "ready if necessary," he said Thursday in a televised statement from the White House. "Hopefully positive things will be taking place with respect to the future of North Korea – but if they don't, we are more ready than we have ever been before."