Bill Clinton: 5 reasons he is helping Obama
Four years ago, former President Clinton got his knuckles rapped for calling Sen. Barack Obama's presidential aspirations a "fairy tale." Now the 42nd president is appearing on the stump with No. 44, helping President Obama fundraise and making the case for his reelection. Mr. Clinton has also earned a reputation as a "campaign whisperer," imparting his views on political strategy to Obama's inner circle. Here are five reasons for the former political foe of Clinton's wife, Secretary of State Hillary Rodham Clinton, to go all out for the newest member of the Presidents Club.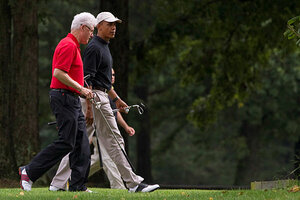 Evan Vucci/AP/File
1.

Show me the money

Clinton has a golden Rolodex, and he can help steer cash toward the Obama campaign, the Democratic National Committee, other national party campaign committees, and state party committees, as well as the independent super PAC, Priorities USA Action, which is supporting Obama. On April 29, Obama and Clinton did their first joint fundraiser, held at the McLean, Va., home of former DNC chairman and Clinton friend Terry McAuliffe.

The two-tiered event was expected to bring in $3 million. More than 500 people were to attend a reception, where tickets started at $1,000 per person. At a separate dinner attended by 80 people, tickets were $20,000 per person. The money goes to the Obama Victory Fund, which is a joint fundraising committee for the Obama campaign and the DNC, and several state Democratic parties.

So far, the Obama campaign has far outraised the Romney campaign, and also has more cash on hand, ending March with $104 million in its coffers to Mitt Romney's $10.1 million. But now that the competitive phase of the GOP primaries is over, Mr. Romney is expected to start vacuuming up cash. In addition, when super PAC money is factored in, the playing field gets much less uneven.

According to Bloomberg News, neither the Clinton nor Obama funding networks have opened up their wallets in a major way to Priorities USA Action or other pro-Obama super PACs.

"Bill and Hillary Clinton's network of political donors have been holding off on multimillion-dollar contributions to his super PACs until they see the core group of Chicagoans who backed the president four years ago start donating more," Bloomberg News reported on April 30.

And through March, only 12 of Obama's 532 top fundraisers had donated to Priorities USA Action, Bloomberg adds. Priorities has raised only about $9 million, compared with $80 million raised by the two main super PACs aimed at defeating Obama, American Crossroads and Restore Our Future, the article states.