'Fiscal cliff'? 'Sequester'? Your guide to Congress's code language.
Members of Congress know what they mean by terms such as 'fiscal cliff' or 'Simpson-Bowles,' but to many outside the Beltway they may as well be speaking Greek. Here's a translation of Washington's shorthand terminology for budgetary issues now before the country – with each entry explained in 50 words or less.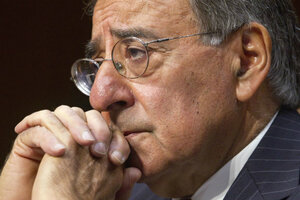 Evan Vucci/AP/File
1.

Fiscal cliff

An economic precipice, created by law in summer 2011, that threatens to cast the US back into recession; a fiscal hit of up to $720 billion over time, starting Jan. 1, 2013, caused by the expiration of a host of tax cuts and the onset of $1.2 trillion in spending cuts.