The Paul Ryan budget: 5 go-to sources for understanding it
The federal budget plan crafted by Rep. Paul Ryan, the Republican vice-presidential nominee, is the talk of the town – and of towns far outside Washington. His "Path to Prosperity" is the model for legislation that the Republican-led US House of Representatives approved in late March – and that the Democratic-controlled Senate rejected 57 to 40 on May 23.
With both parties clamoring about its merits and demerits, with journalists generalizing about Mr. Ryan, "the deficit hawk," and with all the speculation on what Ayn Rand would really think of his proposal, it can be hard to tell where partisan slants end and real analysis begins. D.C. Decoder has compiled a list of groups offering some of the clearest, most comprehensive explanations of Ryan's controversial plan – including some with real digging. Here are five go-to sources.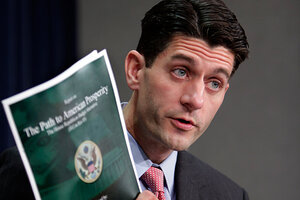 J. Scott Applewhite/AP
1.

The Bipartisan Policy Center

The Bipartisan Policy Center has a detailed analysis of Ryan's budget, with several illustrative charts and graphs, including a bar graph that compares several different budget plans on their revenue and spending.

The BPC analysis of the Ryan plan covers many topics, but it goes into detail on how government health-care programs would be affected. Not only does it address funding for Medicare (health insurance for seniors) and Medicaid (health insurance for the poor), but it also gives special attention to the Children's Health Insurance Program. It also outlines specific consequences that would result if the Affordable Care Act were to be repealed, as called for in Ryan's budget plan.

The BPC analysis quotes extensively from the Congressional Budget Office's report on the Ryan plan and compares the Ryan plan with other debt-reduction plans, the CBO's January 2011 defense projections, and historic levels of spending.

The BPC also provides links to its analyses of other budget plans: the House Democrats' budget, the proposal by the Congressional Progressive Caucus, and the bipartisan Cooper-LaTourette proposal.

A nonprofit lobbying organization founded by two Republican and two Democratic senators, the Bipartisan Policy Center celebrates and encourages bipartisan discourse. Its main focuses are health care, energy, national and homeland security, transportation, and the economy.