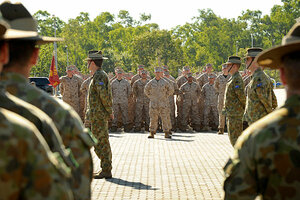 Chris Dickson/Australian Department of Defense/AP/File
3.

Regional flash points

Obama has taken a number of steps to put meat on the bones of his Asia "pivot," including establishing a permanent Marine base in Australia, making the US part of existing regional forums, developing closer ties to countries like Vietnam and the Philippines, and advancing negotiations toward a Trans-Pacific Partnership trade area.

But Obama has also worked to allay China's concerns that the US is set on challenging its regional rise: The administration has called for multilateral negotiations to settle territorial disputes in the South China Sea and declined to sell advanced F-16 fighter jets to Taiwan.

In speeches and position papers, Romney suggests that his administration would be a lot less focused on reassuring a rising China about US intentions toward it, and more concerned with buttressing American leadership in Asia and using strong US action to persuade China to play a benign regional role.

Romney, his China and East Asia policy paper states, "will implement a strategy that makes the path of regional hegemony for China far more costly than the alternative path of becoming a responsible partner in the international system."

Romney says the US should expand its presence in the western Pacific, and he gives strong hints that he would reverse Obama policy and sell Taiwan the F-16s.