Obama vs. Romney 101: 5 ways they differ on immigration
Immigration could be a pivotal issue in the 2012 presidential race, and Barack Obama knows it. Mr. Obama's positions on immigration issues, such as a path to citizenship for illegal immigrants and greater discretion in deportations, are in line with those favored by most Latino voters. Republican challenger Mitt Romney has tried to cast himself somewhere between the staunchest anti-illegal immigration activists of his party and Obama.
Obama is seeking to press his advantage among Latino voters, particularly in swing states like Colorado and Nevada, which could prove crucial in November. Polls suggest that more than 70 percent of Latinos favor Obama. Here are the two candidates' positions on comprehensive immigration reform, the DREAM Act, deportations, the border fence, and employer sanctions.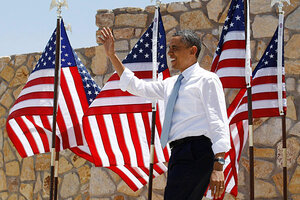 Jim Young/REUTERS/File
1.

Comprehensive immigration reform

Obama says his support for comprehensive immigration reform has been limited only by Congress's inability to put a bill on his desk. In 2007, then-Senator Obama voted for the comprehensive immigration bill backed by Sen. Edward Kennedy (D) of Massachusetts, Sen. John McCain (R) of Arizona, and President Bush. The bill never reached the floor for a vote, but it would have provided a path to citizenship for 12 million to 20 million illegal immigrants, established a two-year guest-worker program, added 20,000 border patrol agents, built 370 miles of border fencing, and revamped the federal employment-verification system.

In 2010, after Arizona passed its anti-illegal immigration Senate Bill 1070, Obama made halting efforts to put immigration reform atop his agenda, proposing solutions in a July 1 speech that echoed the failed Kennedy-McCain bill. But he was unable to make significant headway.

The lack of immigration reform, he told the National Association of Latino Elected and Appointed Officials (NALEO) on June 22, "has given rise to a patchwork of state laws that cause more problems than they solve and are often doing more harm than good."

Former Massachusetts Governor Romney has said he is similarly committed to federal immigration reform. But he has laid more stress on enforcement. "That means both preventing illegal border crossings and making it harder to illegally overstay a visa," he said in an address to NALEO on June 21. "We should field enough border patrol agents, complete a high-tech fence, and implement an improved exit-verification system."

Romney has sought to put immigration reform in a economic context, suggesting changes designed to help American business. "I'll work with states and employers to update our temporary-worker visa program so that it meets our economic needs," he told NALEO. "And if you get an advanced degree here, we want you to stay here. So I'd staple a green card to the diploma of someone who gets an advanced degree in America."

He also vows to cut bureaucratic red tape to allow families to stay together. But he does not favor a path to citizenship for illegal immigrants currently in America.

This puts him at odds with many Latino voters, and Obama sees an opening. "The immigration issue could be pivotal in the presidential race," says Steven Schier, a political scientist at Carleton College in Northfield, Minn. "A strong Latino turnout is critical to Obama's victory, and a successful exploitation of the immigration issue by his campaign could ensure a second term in the White House."