Who are the 47 percent? 5 jobs held by people who pay no income tax.
In a secret video, Mitt Romney said 47 percent of Americans don't pay federal income taxes – and he was right. Half of that 47 percent don't owe anything because they can claim deductions. But the other half are workers who hold jobs that don't pay enough for them to owe income taxes to Uncle Sam (though federal payroll taxes for Medicare and Social Security get deducted from their paychecks), according to Roberton Williams, a senior fellow at the Tax Policy Center.
What kinds of jobs are these? Here are five jobs for which the median earnings would disqualify a family with two children from owing any federal income taxes, after deductions.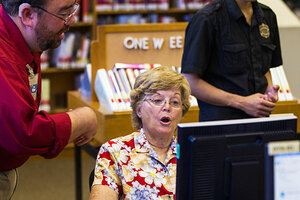 Lucas Jackson/REUTERS/File
1.

Library assistants

Despite the growth of online data networks, people still want to find books in libraries. And, when they need help, they ask a library assistant.

According to a recent job posting by the Boston Public Library, candidates for the job need tact in dealing with people, good oral skills, good judgment, and dependability. Computer skills are essential.

Although a high school diploma or GED is required, most library assistants will probably have some college under their belts. In fact, a recent job posting for the Sharon, Mass., public library, says a college degree is preferable.

"It's a viable career for people who have worked as students or lived in communities where they have frequented libraries and have a love and passion for reading and helping patrons," says Lorelle Swader, director of the American Library Association's Office for Human Resource Development and Recruitment in Chicago.

That would be the case for Chris Amorosi, who works as a library assistant at the Saugus Public Library. "I enjoy anything involving organizing information and helping people find what they are looking for," he says.

However, according to the Bureau of Labor Statistics (BLS), the pay is relatively modest: last year, the 109,440 library assistants had a mean annual salary of $25,570 a year.