Election 2012: 12 reasons Obama won and Romney lost
President Obama went into his reelection fight facing significant head winds – most important, high unemployment and slow economic growth. Even if the nation had technically pulled out of recession, many Americans weren't feeling it.
For Mr. Obama to win a second term, he was going to have to beat history. No president since the Great Depression had won reelection with unemployment above 7.2 percent, the rate when President Reagan was reelected in 1984.
For a multitude of reasons – Obama's positives, Republican challenger Mitt Romney's negatives, and factors beyond either man's control – Obama succeeded. Here's our list.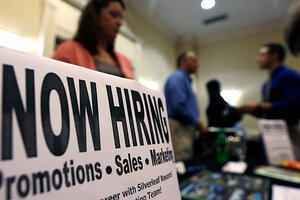 Mike Groll/AP
1.

Enough of an economic recovery

Though unemployment remained high by Election Day – 7.9 percent in October – and economic growth sluggish, the trends were at least heading in the right direction. Many voters factored in the full-blown crisis Obama had inherited when he took office, and they bought the argument of former President Clinton that Obama did as well as could be expected. Mr. Clinton's extensive campaigning in the final weeks, with particular outreach to white working-class voters, also probably helped.