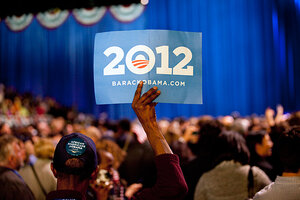 Melanie Stetson Freeman/The Christian Science Monitor
2.

Obama's superior campaign

In his first presidential run, then-Senator Obama put together a top-notch team, first overcoming the Democrat favored for the nomination – then-Sen. Hillary Rodham Clinton – then easily beating Republican nominee John McCain. Team Obama's skill in messaging, fundraising, strategic planning, micro-targeting voters, and getting out the vote carried into the 2012 cycle. Some will fault the harsh way in which Mr. Romney was attacked, but the morning after, few Democrats are arguing with success. Also, Team Romney failed to respond effectively to the Obama campaign's attacks over the summer, to the frustration of many Republicans. That was due, in part, to the extended GOP primary season.