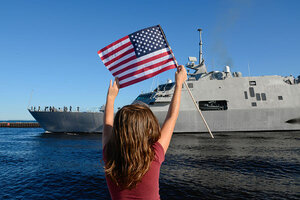 Lockheed Martin/PRNewsFoto/File
2.

Navy

Should Congress fail to avert the threat of sequestration by March 1, the Navy's top officer warns that the naval fleet will be forced to put an end to "nearly all non-deployed operations."

This could "ultimately prevent" carrier strike groups and amphibious ready groups from deploying, added Adm. Jonathan Greenert, chief of Naval Operations, in a memo issued earlier this month.

Navy commanders have also been ordered to cancel repair of nearly all piers, runways, buildings, and other facilities through September, as well as most ship maintenance at private shipyards except for critical repairs "for safety and security."

Like the Army, the Navy is terminating temporary employees and implementing a temporary hiring freeze, reducing the Navy's shipyard force by some 10 percent.

"This is a big deal for all those yards that have been hiring," Craig Quigley, executive director of the Hampton Roads Military and Federal Facilities Alliance, told the Virginian-Pilot. "This completely pulls the rug out from under them."

Commanders have been ordered to curtail all temporary travels as well as "duties and professional training not deemed mission essential, to include attendance at conferences and seminars," according to Admiral Greenert's memo.

He pointed out that little expenditures add up, too, and directed his officers to "reduce utilities consumption to the maximum extent possible" and "stop minor purchases that are not mission-essential, such as furniture, information technology, and unit equipment."

No more parties, either. "Ceremony expenses shall be similarly limited," Greenert said.