If not 'sequester,' then what? Five ideas from left and right.
Few in Washington believe that "the sequester" – automatic spending cuts that will hit the federal budget to the tune of $85 billion as of March 1 – is a good idea. It has been described variously as a blunt instrument, a cleaver, stupid, and akin to shooting the Department of Defense in the head.
But what's been proposed as an alternative?
Well, members of Congress, the White House, and deficit-reduction gurus Alan Simpson and Erskine Bowles (remember their special bipartisan commission?) have all put forward their plans to replace it. The thinking is that surely there is a better way than to proceed with the sequester's across-the-board cuts for every line in the federal budget, as if each is of equal importance.
While the sequester will require cuts in nearly all core federal functions, some slices of government are exempt. Social Security payments will still go out as usual. Active-duty military personnel won't be cut; nor will services for veterans. Some social services, including nutrition assistance and the Medicaid health program for poor Americans, are also exempt from cuts.
But pretty much everything else is sequester-eligible. What to do instead? Here are five anti-sequester options that are out there.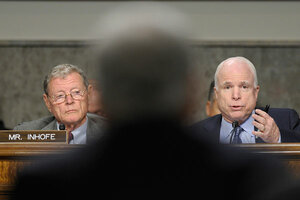 Susan Walsh/AP/File
1.

The defense hawks: 'Shrink the federal workforce instead'

Top Republicans on the House and Senate armed services committees (Rep. Buck McKeon of California and Sen. Jim Inhofe of Oklahoma, respectively) are among those who have joined stalwart defense hawks like Sen. John McCain (R) of Arizona to propose this one-year fix: Slash the federal workforce instead of making all the other cuts (in the process staving off $42.7 billion in cuts to the US military this fiscal year).

The defense hawks would shrink the federal workforce by 10 percent through attrition – or about 210,000 positions. Federal agencies would be allowed to hire one person for every three who leave, netting $85 billion in savings over 10 years. The bill also freezes lawmakers' pay.

Such a hiring regimen would allow each federal agency to direct new hires to its most vital divisions instead of instituting across-the-board cuts. The lawmakers propose a fix for a single year, in the hope that a broader compromise might be reached within that period.

"To the president: We bear responsibility as Republicans for allowing this to happen," Sen. Lindsey Graham (R) of South Carolina said in early February at a press conference introducing the bill. "Lead us to a better solution. If you do not, Mr. President, you will go down in history, in my view, as one of the most irresponsible commanders in chief in the history of the country because what you will have done, Mr. President, is you will have allowed the finest military in the history of the world to deteriorate at a time when we need it the most."