Government shutdown 101: 12 ways it could affect you
With Congress failing to fund the federal government by Oct. 1, the start of the new fiscal year, the government has gone into partial shutdown. Some government functions – those deemed essential – are continuing as usual, while others are suspended. More than 800,000 of about 2.9 million federal employees are likely to be furloughed, according to media estimates.
Here is a list of what's open, and what isn't, during the shutdown (with updates made on Oct. 1).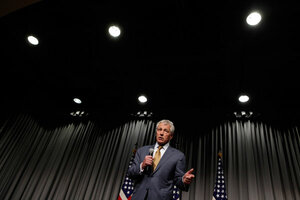 Yuri Gripas/Reuters/File
1.

What happens to national defense?

As with all government agencies, essential services continue to be performed, as determined by the heads of the agencies.

"Military personnel would continue in a normal duty status," a Department of Defense memo stated Sept. 23, adding that a "large number" of the Department of Defense's civilian employees would still be temporarily furloughed.

Two types of Defense employees escape furlough: one, if they are "performing emergency work involving the safety of human life or the protection of property"; and two, those whose jobs are not funded by Congress via annual appropriations. All others face a furlough, which bars them from working, including as a volunteer.