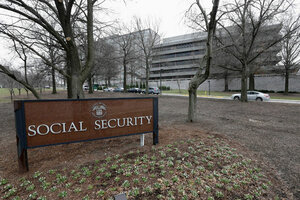 Patrick Semansky/AP/File
2.

Will Social Security and Medicare payments still be mailed?

Yes, but.... Social Security and Medicare are entitlements, and as such, the spending is mandatory. So checks will still go out. But there could be delays if a lack of funds for worker salaries means a reduced workforce at their respective agencies. Also, new applications are not likely to be processed until the government reopens. In the 1996 shutdown, more than 10,000 Medicare applicants were turned away daily, according to the Committee for a Responsible Federal Budget (CRFB).

During the shutdowns of 1995 and 1996, some Social Security employees were allowed to work, which kept benefits flowing to existing Social Security, disability, and black lung beneficiaries, according to the Congressional Research Service (CRS). But over time, more workers were brought back to process new claims and respond to other requests (such as from people who needed a Social Security card to work).