Javascript is disabled. Quiz scoring requires Javascript.
How much do you know about President John F. Kennedy? Take our quiz.
Over fifty years after his assassination in Dallas, John F. Kennedy remains one of the most famous and admired Americans of the 20th century. US voters routinely rank him among the best of the nation's presidents, though historians remain split over the import of his thousand days in the Oval Office. Revelations about his philandering and health problems have darkened his image but not dimmed public fascination with him and his family, if the steady stream of JFK books, movies, and other media material is any guide. Today it is clearer than ever that his murder was a hinge of history. At dusk on Nov. 22, 1963, America was a different country, less innocent than it had been at sunrise.
Do you think you know John F. Kennedy, what's real about him and what's myth? Match wits with D.C. Decoder and rate your knowledge of the 35th president of the United States.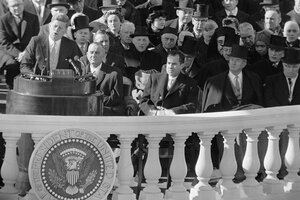 AP/File
1.

John Fitzgerald Kennedy was born in Brookline, Mass., on May 29, 1917. Who was he named for?

Famous American author F. Scott Fitzgerald

Maternal grandfather John Francis Fitzgerald

Ancient Irish king Seán O'Kennedy