CIA-Senate dispute 101: 9 questions about who's spying on whom
Did the Central Intelligence Agency spy illegally on Senate Intelligence Committee computers? That's what Sen. Dianne Feinstein (D) of California charged Tuesday in an extraordinary Senate floor speech. The CIA has denied wrongdoing and has its own questions about how Intelligence Committee staffers turned up a sensitive internal report on the agency's past use of harsh interrogation techniques.
Here are nine questions and answers about a complex story that starts with waterboarding and ends in a secret CIA facility in northern Virginia.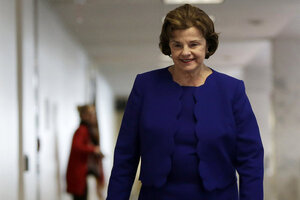 Gary Cameron/Reuters
1.

What's the background?

The CIA began using so-called enhanced interrogation techniques on terror suspects at black sites around the world in 2002.These included use of waterboarding to simulate drowning, stress positions, and sleep deprivation.

Following a series of news reports detailing this activity, the Senate Intelligence Committee in 2009 authorized a comprehensive review of the program. While panel lawmakers had been informed of the program by agency briefers, a preliminary staff inquiry showed that the interrogations were harsher than they had been described, according to Senator Feinstein, the committee chairman. The panel was also concerned about the CIA's destruction of some videotapes of interrogations, seeing it as possible destruction of evidence.