Russia sanctions 101: five questions you were too embarrassed to ask
What is the United States really doing to try to push Russia to curb its sudden interest in occupying territory outside its borders? Yes, President Obama has announced several rounds of economic sanctions on Moscow, acting with European allies. But "economic sanctions" is a phrase that covers lots of possible geopolitical punishments. Here are answers to some simple questions about sanction specifics.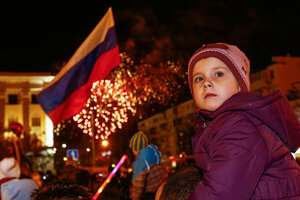 Shamil Zhumatov/Reuters
1.

What's the target?

US and European Union sanctions against Russia are targeted at individuals, for the most part – not the country as a whole. The Treasury Department has issued a list of 20 people – mostly Russians, with a scattering of Ukrainians in Crimea – whose US bank accounts and property will be seized and who can no longer trade in dollars. One Russian bank is on the list, too, because it's pretty much owned by one of the sanctioned people.