Election 2014: the most competitive Senate races
The Democrats face some challenging math in their quest to hold onto the US Senate. In all, 21 Democratic-held seats are up for election this November, versus 15 Republican-held seats. And political analysts deem far more of the Democratic seats vulnerable.
To take control of the Senate, the Republicans need a net gain of six seats. Three look set to flip: Montana, West Virginia, and South Dakota.
Eleven other Senate races are seen as competitive – eight seats held by Democrats, three by Republicans. Here's the rundown, updated on Oct. 26.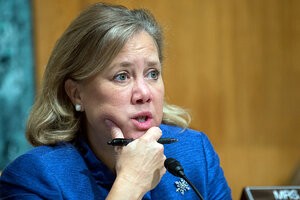 Manuel Balce Ceneta/AP
1.

Louisiana: Mary Landrieu (D), incumbent

[Updated Oct. 26] Senator Landrieu comes from a famous Louisiana political family and chairs the Senate Energy and Natural Resources Committee – an important post for a state whose economy centers on oil and gas. But those two points may not be enough to save her job. The State Department announcement April 18 that it was delaying – again – a decision on whether to build the Keystone XL pipeline undermined her claims of clout with the Obama administration.

The leading Republican running against her, Rep. Bill Cassidy, has done well in fundraising but not as well as Landrieu.

Louisiana has no primaries; all the candidates will run against one another on Election Day, and if no one wins a majority, the top two finishers will compete in a runoff on Dec. 6.

Two nonpartisan handicappers – Cook Political Report and Sabato's Crystal Ball – call the race a tossup. A third, Rothenberg Political Report, calls it tossup/tilt Republican.