Democrat vs. Democrat: five tough primaries that pit left against itself
Republicans have become famous for eating their own in primaries. The Democrats? Not so much. But there are still a handful of interesting Democrat vs. Democrat races this cycle. Here's a list: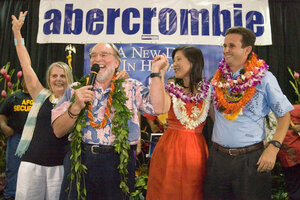 Eugene Tanner/AP/File
1.

Hawaii: Colleen Hanabusa vs. Brian Schatz

This is the only Democratic Senate primary this cycle that's competitive, but it's a barn-burner. Senator Schatz got his seat by gubernatorial appointment in 2012, replacing the late Sen. Daniel Inouye (D).

Schatz's appointment was controversial: Senator Inouye had requested before his death that Gov. Neil Abercrombie (D) give the seat to Rep. Colleen Hanabusa. He appointed Schatz, his lieutenant governor, instead. Schatz is only the second non-Asian to represent Hawaii in the Senate, adding a racial component to the primary.

President Obama, born in Hawaii, has endorsed Schatz. A Civil Beat Poll released May 27 has Schatz up by 5 points, 44 percent to 39 percent. The primary is Aug. 9.