Child-migrant crisis: Will Obama help rally Democrats to back a GOP plan?
Senate Democrats and House Republicans release sharply different responses to President Obama's $3.7 billion request to deal with the border crisis. Pressure mounts for the president to help broker a deal.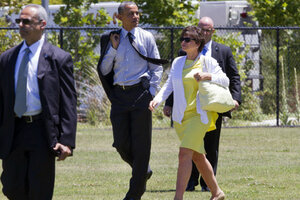 AP
On Wednesday, Senate Democrats and House Republicans put forward starkly different outlines of their responses to the child-migrant crisis on the southern border – and to President Obama's request for $3.7 billion to solve it.
Potentially, the president could now step in and try to broker a deal, especially given that the White House is close to the Republican position on the main sticking point: changing a 2008 antitrafficking law to allow speedier processing of child migrants who show up without a parent at the border.
Indeed, House Speaker John Boehner (R) of Ohio on Wednesday sent Mr. Obama a letter asking him to publicly reiterate his support for the changes so that Congress can move forward with a more bipartisan approach to the crisis.

Test Your Knowledge
Could you pass a US citizenship test? Find out.
But the move is politically risky.
"President Obama does have the potential to strike a big deal. It would cost him dearly, though, with Democrats who have stated they want to defend this law," says Julian Zelizer, a congressional historian at Princeton University, in an e-mail. "But at this point Congress is not moving and the parties are too far apart."
Here's a look at the two parties' approaches, and the different viewpoints – even within the parties – that would need to be bridged to broker a deal by August. That's when Congress starts its five-week summer recess and when the government says it will start to run out of money to care for the child migrants:
The House GOP plan. A working group of Republican House members, appointed by Speaker Boehner, unveiled a dozen policy recommendations to their colleagues at a closed-door session Wednesday morning.
The suggestions include deploying the National Guard to the border to help with humanitarian care of minors so that US border patrol officers are freed up; amending the 2008 antitrafficking law to allow voluntary deportation of unaccompanied children, while requiring that those eligible to enter the US remain under the custody of the Department of Health and Human Services (HHS) and have their claims heard by an immigration judge within a week; and adding judge teams and temporary judges to expedite the hearing of asylum and credible-fear claims.
Separately, the Republican-controlled House Appropriations Committee is expected to cut the president's funding request by more than half – to $1.5 billion. It is also expected to propose budget offsets to pay for it.
The Senate Democratic plan. Senate legislation also cuts Obama's request for the crisis, but not as deeply – by $1 billion – for a total of $2.7 billion. Most of it would go to helping HHS care for the influx of children and to the Department of Homeland Security (DHS), which deals with immigration and border enforcement. Like the House plan, it calls for more immigration judges to hear cases, adding 10 more judges than the president's request of 40. But the similarities with the House plan pretty much end there.
The legislation, expected to be introduced Wednesday by Senate Appropriations Chairwoman Barbara Mikulski (D) of Maryland, seeks no change to the 2008 law. "This is a funding bill, so it does not include immigration legislation," Senator Mikulski said in a statement Tuesday.
It also does not include a deployment of the National Guard, which Democrats say is not needed because children are turning themselves in, not trying to avoid border patrol agents. Because the need is viewed as an emergency, there are no spending offsets – indeed, the senator added an extra $615 million to fight wildfires and $225 million to help Israel with its Iron Dome antimissile project.
Of all the differences, the one that counts the most is this: Republicans refuse to give the president a "blank check" without fixing the problem, which they see, at least in part, as the 2008 law that allows for quick deportation of unaccompanied children from Mexico or Canada, but gives all other such children access to individual immigration hearings. 
The arrival of tens of thousands of Central American children has unintentionally caused a huge backlog of cases in the courts. Forty-six percent of the children never show up for their court dates, staying in the US, and critics say this sends an open-door message to others in Central America.
The White House says it wants to change the law so that the secretary of Homeland Security has more discretion in handling these children – most of whom do not qualify to stay, the White House says. But the administration has run into fierce opposition from key Democrats on the Hill and from immigration- and child-advocate groups. They fear changing the law would deprive qualified children of due process. 
While Democrats are divided, so, too, are Republicans. After their closed-door morning meeting, several conservative House Republicans questioned the price tag and the emergency, which they described as Obama's own doing.
Rep. John Flemming (R) of Louisiana said the speaker may not have the votes among Republicans to pass a bill. The Louisianan also worried about the political risk of "jumping into President Obama's nightmare and making it ours."
"It appears people have hardened on both sides of the issue," says Sen. Claire McCaskill (D) of Missouri. The senator is one of the Democrats who favors treating children from Central America the same as minors from Mexico and Canada.
In interviews, a few senators from both parties said they still believe a compromise is possible. As an indication of that, DHS Secretary Jeh Johnson has sent draft legislation on the 2008 law to Sen. Dianne Feinstein (D) of California, who believes the law already grants the administration the leeway it needs to expedite the cases of the Central American children. She's reviewing the draft.
At the same time, Sen. John Cornyn (R) of Texas, who has sponsored a bipartisan change to the 2008 law with a Texas Democrat in the House, Rep. Henry Cuellar, says he is open to compromise – if the administration would talk with him (he has reached out to Secretary Johnson's office).
"I don't think there is much Obama can do to persuade his opponents to join him, but he can make a Clinton-like move and accept the terms that the GOP wants," said Mr. Zelizer. 
Or, as some policy experts suggest, he might agree to changes to the law that are more palatable to Democrats – for instance, by lengthening the time frame in which child cases must go before a judge or having US asylum officers instead of border patrol officers query migrant children early on.
The political upside for presidential assertiveness here would be the chance to look, well, presidential as he solves a national crisis, rather than appearing absent doing fundraisers and vacationing as a crisis continues. The downside, as described by Senator McCaskill, is that if Obama "asserts himself too strongly, he becomes the issue, rather than the underlying policy."
One thing is clear. As things stand now, the president has almost no chance of getting the funding he seeks anytime soon.