Has Obama abused executive power? His 5 most controversial uses.
President Obama has become known for his aggressive use of executive power. Faced with a balky Congress that is unwilling to move his agenda or compromise on most matters, he says he has no choice. But House Speaker John Boehner (R) of Ohio isn't impressed, and plans to sue. Here are our picks for Mr. Obama's most controversial uses of executive power: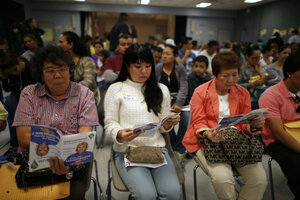 Lucy Nicholson/Reuters/File
1.

The Affordable Care Act – Employer Mandate Delay

The House lawsuit will center on one element of the ACA: the requirement that large employers (those with 50 or more workers) provide health coverage or pay a penalty. That provision was originally due to go into effect in January 2014, but the Obama administration has delayed that deadline twice, and it is now January 2016. The Treasury Department issued rules in February 2014 spelling out the second delay.

The rationale for the delay was to allow companies more time to adjust to providing coverage. But Republicans accused the White House of trying to avoid another Obamacare controversy before the November midterms. And they argued that individuals should have been given a reprieve.

The delay to the employer mandate is just one of many changes to the ACA ordered by the Obama administration without congressional approval. In some cases, a law is left vague, leaving rulemaking up to the relevant government agencies. But in other cases, a law is explicit, and unilateral changes by the administration can spark controversy.