Three reasons Republicans may not want to capture the Senate
Control of the Senate is the big prize in the November midterms. Increasingly, the Republicans' prospects are looking good.
All the GOP incumbents running for reelection survived their primaries, shutting out tea party-backed challengers who might have scared away moderate voters; Republicans have far more opportunities for pickups (11 seats) than do Democrats (three); and they're already strong favorites to win three of the six seats needed to net a majority: South Dakota, Montana, and West Virginia.
Election forecaster Nate Silver gives the GOP a 62.2 percent chance of retaking the Senate. Another nonpartisan handicapper, Stuart Rothenberg, says he expects "a substantial Republican Senate wave in November, with a net gain of at least seven seats," and wouldn't be shocked by more.
If Republicans do capture the Senate, isn't that great for them? In many ways, yes. They'd get to set the Senate agenda, for starters. But winning also brings risks. Here are some: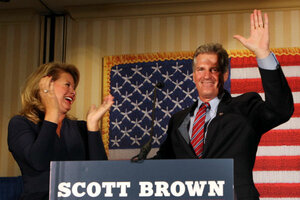 Jim Cole/AP
1.

Republicans might learn the wrong lesson

If the GOP retakes the Senate, it will be sorely tempting for some party members – particularly anti-establishment conservatives – to conclude that the party is in good shape for 2016 and doesn't need to change its approach.

There are two dangers associated with that. One, the Senate "map" in 2016 favors the Democrats; there will be 23 Republican seats up compared with just 10 Democratic seats – the reverse of this cycle (21 Democrats and 15 Republicans). So what works this year doesn't necessarily translate to 2016.

Two, the electorate will be different in two years. 2016 is a presidential election year, and many more people vote in presidential years than in midterms. Demographically, marginal voters tend to be Democrats – young adults, minorities, single women. This year, the Republicans have little incentive to woo Hispanic voters, but every incentive to woo them in 2016. They probably can't win the presidency without doing better with Hispanic voters than GOP nominee Mitt Romney did in 2012: 27 percent.

So if the Republicans win the Senate this year, the extent of the party's crisis over Hispanic votes will be less apparent than if they fail to win the Senate.