Islamic State 101: three tricky problems for US military campaign
The campaign to train Iraqi and Syrian fighters to take on the Islamic State will be long and difficult, top Pentagon officials say. The Pentagon's goal is to create coalitions and build credible fighting forces, with some airstrikes thrown in for good measure. "This will not look like 'shock and awe,' " Chairman of the Joint Chiefs of Staff Gen. Martin Dempsey told a Senate committee Sept. 16.
The Islamic State, also known as ISIS and ISIL, has "acquired significant resources and advanced weapons" and is jockeying "to become the new vanguard in the global extremist movement," Defense Secretary Chuck Hagel added.
Here are what are likely to be the top three trickiest sticking points for the US military campaign in the months to come: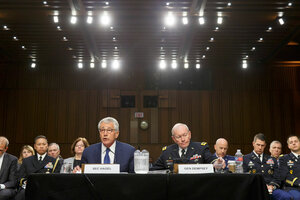 J. Scott Applewhite/AP
1.

No boots on the ground?

This was President Obama's pledge to the American people when he made the case for taking on IS earlier this month, but behind the scenes it appears that there is more wiggle room than previously acknowledged.

General Dempsey told lawmakers Tuesday that there might be moments in coming battles against IS in which US "boots on the ground" may be necessary.

Building a coalition and training local forces "is the appropriate way forward. I believe this will prove true," he said. "But if this fails to be true – and if there are threats to the United States – then I of course would go back to the president and make a recommendation that may include the use of US military ground forces."

This could include, for example, Joint Tactical Air Controllers (JTACs), who help call in airstrikes to target enemy forces while avoiding friendly fire casualties.

"If we get to the point where I think we need the JTAC with the Iraqi security forces, I'll make the recommendation," Dempsey said. "But I'm not there."

He recounted a moment during a recent military operation in Iraq, in which the US was conducting airstrikes while working with "two different forces speaking two different languages." Gen. Lloyd Austin – head of US Central Command, which runs US operations in Middle East – had suggested that US forces needed to use a JTAC.

But he and Dempsey "discussed it and worked through it," Dempsey told lawmakers, and they resolved it without a JTAC.

That said, General Austin "shares my view that there will be circumstances when we think that'll be necessary," Dempsey added. "But we haven't encountered one yet."

Mr. Obama shares this view, too, he said. "At this point, his stated policy is that we will not have US ground forces in direct combat," Dempsey noted. "But he has told me as well to come back to him on a case-by-case basis."