Newest 'Most Wanted Terrorist': Should Assata Shakur make the list?
(Read article summary)
Fugitive Assata Shakur is the first woman named to FBI's Most Wanted Terrorists list. A member of a black militant group, she was convicted of the 1973 murder of a New Jersey trooper. But some say the 'terrorist' label doesn't stick.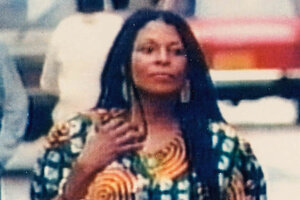 New Jersey State Police/AP/File
The FBI has added the first woman to its "Most Wanted Terrorists" list, Joanne Chesimard, who is currently living in Cuba under the name Assata Shakur.
Ms. Chesimard/Shakur is a fugitive member of a black militant group convicted of murdering a New Jersey state trooper by the side of a roadway on May 2, 1973. Sentenced to prison in 1977, she escaped in November 1979. Eventually she made her way to Cuba, where the Castro regime has sheltered her ever since, claiming she is a victim of racial persecution.
Cuba has declined repeated US requests to extradite her. On Thursday, the FBI and New Jersey law enforcement officials announced that they have doubled the reward for her capture and return to $2 million.
"She continues to flaunt her freedom in the face of this horrific crime," said New Jersey State Police Superintendent Col. Rick Fuentes at a news conference.
The FBI "Most Wanted Terrorist" list is an offshoot of the venerable "Most Wanted" list, and something of a younger brother. It was first drawn up and published in late 2001 after the 9/11 attacks. At that time it contained the names of 22 men, mostly Middle Eastern, who had been indicted by federal grand juries on charges connected to terrorist attacks ranging from the 1993 World Trade Center bombing to the 1996 attack on a US military residential tower in Khobar, Saudi Arabia. Osama bin Laden was No. 1. He was the only person on the 2001 terrorist list who was already a "Most Wanted" – in his case, due to his involvement in the 1998 bombings of US embassies in Africa.
Alleged terrorists remain on the list "until such time as the charges are dropped or when credible physical evidence is obtained, which proves with 100 percent accuracy, that they are deceased," says the FBI.
Needless to say, Mr. bin Laden is no longer listed.
Today the list has 32 names. The majority are Middle Easterners, such as Ayman al-Zawahiri, the former bin Laden associate and current listed head of Al Qaeda.
The first domestic terrorist added to the list, according to the FBI, was Daniel Andreas San Diego, in 2009. He is an alleged environmental extremist – the FBI says he has ties to "animal rights extremist groups" – wanted for possible involvement in two 2003 bombings in the San Francisco area.
As for Joanne Chesimard, the FBI says she was a prominent member of the Black Liberation Army, which from the late 1960s through the 1970s was responsible for the killings of more than a dozen law enforcement officers.
On May 2, 1973, state police stopped a car in which Chesimard and two associates were riding on the New Jersey Turnpike on grounds that it had a broken taillight. At the time, Chesimard was wanted for possible involvement in several felonies, including bank robbery.
"Chesimard and her accomplices opened fire on the troopers. One trooper was wounded and the other was shot and killed execution-style at point-blank range," reads the FBI's account of what happened.
One of Chesimard's companions was killed in the firefight. The other was convicted and remains in jail.
Not everyone agrees that Chesimard belongs on the terrorist list. They note that, among other things, the FBI and other law enforcement agencies used both legal and illegal means to watch and counter left-wing groups in the 1960s and '70s.
Nor is there any evidence that Chesimard actually fired the shots that took the life of New Jersey state trooper Werner Foerster, said Rutgers University criminal justice professor Lennox Hinds, who was one of her defense attorneys. (Under New Jersey law, an accomplice can also be convicted of first-degree murder.)
"I believe that we have to look at this in the context of what has just happened in Boston," Mr. Hinds told the self-described progressive news show "Democracy Now!" on Friday. "I think that with the massacre that occurred there, the FBI and the state police are attempting to inflame the public opinion to characterize her as a terrorist, because the acts that she was convicted of have nothing to do with terrorism."
The FBI, for its part, alleges that Chesimard took an active role in the firefight, including firing the first shot.
"This crime was always considered an act of domestic terrorism," said Mike Rinaldi, a lieutenant with the New Jersey State Police and a member of the FBI Joint Terrorism Task Force in Newark, at Thursday's press conference.