Redskins name change: Will Congress make team act?
(Read article summary)
Redskins name change is being pushed by 10 members of Congress, who say the football team's nickname is a slur. But it's also linked to a storied past, so don't hold your breath.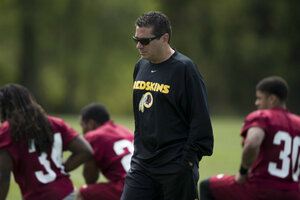 Evan Vucci/AP/File
Can Capitol Hill get the Washington Redskins to change their name? That's a live question in D.C. Wednesday since 10 members of Congress have sent a letter asking for such a switch to Redskins owner Daniel Snyder, National Football League Commissioner Roger Goodell, Redskins sponsor FedEx, and all the other NFL franchises.
The word "redskin" is offensive to many native Americans, said the lawmakers in their missive.
"Native Americans throughout the country consider the 'R-word' a racial, derogatory slur akin to the 'N-word' among African Americans or the 'W-word' among Latinos," the letter said.
Hmm. Will this be the push that finally gets Mr. Snyder to act? After all, this is a long-running issue. The nickname is already the subject of a legal challenge from a group that wants to strip the team of trademark protection. Native American groups themselves have complained that the team name is a slur that should not be allowed.
Furthermore, the politics of the group that sent the letter is pretty interesting. For the most part, it reflects the membership of the Congressional Native American Caucus. While most of the signers are Democrats, at least one – Rep. Tom Cole of Oklahoma, an enrolled member of the Chickasaw nation – is Republican, giving the effort a bipartisan tinge.
Plus, there's a precedent. A Washington sports team changed its name in the mid-1990s in part due to worries that it had become offensive. That was the former Washington Bullets, whose owner, Abe Pollin, decided that the name spoke too much of violence, and changed it to Wizards in 1995.
But to be honest, we don't think the Redskins are going to follow suit, at least not yet. Ten members of Congress do not really constitute a very big pressure group. There are 435 lawmakers in the House chamber, after all. That means 425 did not sign the letter.
And Daniel Synder is not Abe Pollin. He's stubborn, and he grew up in the Washington area as a rabid fan, watching the Redskins in their Joe Gibbs glory days while eating off a TV tray in front of the set. He's become a wealthy communications businessman, but the team is his toy. "Redskin" may be his "Rosebud," a word that evokes his past.
"We will never change the name of the team," he told USA Today earlier this month.
That's a vow he's unlikely to break. This is a man who sued for libel after the Washington City Paper ran an article titled, "The Cranky Redskins Fan Guide to Dan Snyder" (he later dropped the suit). This is a man who has banned fan signs from FedEx field. This is a man who lured Mr. Gibbs out of retirement for a second coaching stint, after Gibbs had been off the field for 11 years.
"I think that the Redskins fans understand the great tradition and what it's all about and what it means, so we feel pretty fortunate to be just working on next season," Snyder told USA Today.