How badly has Brian Williams besmirched NBC News?
(Read article summary)
Brian Williams has admitted that his story of being in a helicopter shot down in Iraq is not true. It's a blow to his credibility, but the nature of network news has been evolving.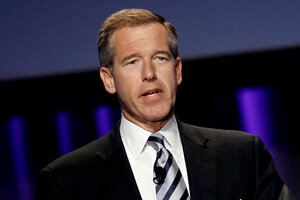 Matt Sayles/AP/File
Brian Williams has said in public in recent years that he came under enemy attack while covering the invasion of Iraq in 2003. He was riding in a Chinook helicopter that was hit by a rocket-propelled grenade, he's said. In the NBC News anchor's account the crew was forced to land the aircraft, hard, in hostile desert south of Najaf, where they remained stranded for several days.
Problem is, the central part of that story is false. Mr. Williams admitted on Wednesday that in this incident he did not experience hostile fire. He was in a different helicopter, following the one damaged by the RPG. He arrived at the scene about an hour later.
"I would not have chosen to make this mistake," Williams told the military publication Stars and Stripes on Wednesday. "I don't know what screwed up in my mind that caused me to conflate one aircraft with another."
How big a blow is this to network news?
Let's explore the background a bit before we chew on that question. In 2003, Williams accurately reported what had happened on-air. In several subsequent references he told the same story, according to a tick-tock of his comments assembled by CNN.
After that, the tale began to grow in the telling. Williams first said that he'd experienced an attack in a 2008 blog post. In a 2013 appearance on the David Letterman show, Williams said flatly that the four helicopters in his flight were hit by ground fire, "including the one I was in." He repeated that assertion last Friday on the news as part of a tribute to an Army veteran who'd helped protect the grounded helicopters and their passengers.
Later he accompanied the Army soldier to a hockey game, where the announcer repeated the shot-at tale.
That led to crew members from the fated flight grumbling on social media that the whole thing was a blowhard exaggeration. Stars and Stripes reporter Travis Tritten picked up this thread, and the rest is now history.
Williams retracted the story on-air on Wednesday after the Stars and Stripes report. He's posted a mea culpa on Facebook. But at the moment he's getting pummeled for his error on social media. There are lots of gleeful folks on Twitter posting images of Williams Photoshopped into O.J.'s famous white Bronco, and so forth. Social media is notoriously cruel, but that's still not a good sign for someone whose job rests on his credibility.
Conservatives want the anchor out. They already think NBC and MSNBC are the most liberal of the legacy networks.
"Brian Williams has to go," tweeted right-leaning media critic Brent Bozell.
Some on the right charge that liberals are already forming a protective circle around Williams, excusing his mistake as a trick of memory. If Sarah Palin made such a whopper, writes Sean Davis in the right-leaning The Federalist, she "would've been chewed up and spit out by the exact same people who are now" defending Williams.
However, the breakdown here is not all along predictable ideological lines. At the leftish Washington Monthly, Ed Kilgore writes that if he were Williams he'd "get out the resume or check the retirement portfolio".
And media reporters for mainstream publications have been scathing. NPR's David Folkenflik called the Williams admission "stunning." The Baltimore Sun's David Zurawik repeatedly referred to the NBC anchor as a "liar" and wrote that "if credibility means anything to NBC News, Brian Williams will no longer be managing editor and anchor of the evening newscast by the end of the day Friday."
Personally, we're interested that so many people are concerned about the credibility of the network evening news. Network news execs long ago shifted the way they thought about evening news anchors, and "credibility" was not primary virtue they sought.
We've been around long enough to remember the switch of the blow-dried Tom Brokaw from the light "Today Show" to the anchor chair. That was supposedly going to destroy the credibility of NBC as it was then known, and that was 1982.
The point here is that it's a show. The biggest problem of the evening news is not credibility: it's the destruction of its financial model by cable news and the web. If NBC execs think Williams remains a draw for the remaining network news core audience, he'll probably stay. But it's possible that if they see this as an opportunity to reinvent something they've been planning to drastically change, he'll be out. Or at the least take a very long leave of absence.