Boehner and Bibi: the backstory
(Read article summary)
Speaker Boehner denies that his invitation to Israeli Prime Minister Netanyahu to address the House is a 'poke in the eye' to the president, but there is an implicit message: If you stretch your authority, we'll stretch ours.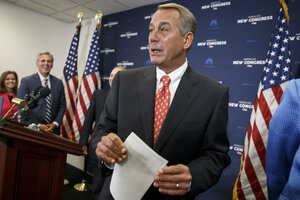 J. Scott Applewhite/AP
Speaker John Boehner (R) of Ohio has invited the Israeli Prime Minister Benjamin Netanyahu to address the House of Representatives. On March 3, Netanyahu will make a forceful case for new sanctions against Iran, which Speaker Boehner supports and President Obama opposes. Boehner did not touch base with the White House ahead of time, a move that press secretary Josh Earnest called a departure from protocol. House Democratic leader Nancy Pelosi criticized the invitation as "inappropriate."
What's going on here?
This is not the first time that a congressional leader has raised partisan ire by making contact with a foreign head of government. In 1984, majority leader Jim Wright (D) of Texas and nine other House Democrats wrote to Daniel Ortega, the chief of the Marxist junta that ruled Nicaragua. The signers opposed the Reagan administration's policy of aiding rebel forces fighting the junta. Republican Newt Gingrich, at the time a backbench House member from Georgia, said that the letter ''clearly violates the constitutional separation of powers. It's at best unwise, and at worst illegal." In 2007, Pelosi herself went to Damascus to meet Syrian President Bashar al-Assad, a visit that President George W. Bush called "counterproductive."
In the current case, there is more at work than a simple disagreement over a specific policy. Congressional Republicans have accused the president of stretching the limits of his constitutional authority over a variety of foreign and domestic issues. But they face serious constraints in responding. They can try to curb the president through legislation, but bills that pass the House must then go through the Senate, where the Democratic minority can stop them through the filibuster. It takes 60 votes to end a filibuster, and the Senate GOP only has 54.  Even if the House and Senate voted for a bill to limit executive power, the president could veto it, and it would take a two-thirds vote in both chambers to override the veto. That's not likely to happen.
Litigation is an even tougher route than legislation. The judiciary typically avoids getting into disputes between the other branches, saying that they are "political questions" for elected officials to work out. When cases do proceed, they can move very slowly. The House is suing the president over Obamacare, and the outside attorney handling the case has a contract extending until 2017.
But the invitation to the prime minister is something that the speaker can do all by himself. Though Boehner denies that it is a "poke in the eye" to the president, one may reasonably speculate that there is an implicit message: If you stretch your authority, we'll stretch ours.
It makes sense that this maneuver involves Netanyahu, who has long had warm relations with Republicans. As a young corporate adviser at Boston Consulting in 1976, he developed a close bond with an up-and-coming colleague named Mitt Romney. His first stint as prime minister started in 1996, and one of his campaign advisers at the time was an American who had worked with Republican candidates. Soon after his victory, he spoke to a joint meeting of Congress. His conservative message on economics and foreign policy thrilled GOP lawmakers. "That's as Republican as it gets," Rep. Matt Salmon (R) of Arizona told USA Today.
Republicans tend to be strong supporters of Israel, and the feeling is mutual. Surveys in 2012 found that people in most other countries preferred President Obama to Mitt Romney, but in Israel, Romney led Obama, 57 to 22 percent. Netanyahu has his own election coming up, and it may not hurt him if Israeli voters see him as standing up to the Obama White House.
So the Republicans have a chance to give the president some constitutional pushback, and the prime minister has a chance to score some electoral points. As they'd say at Boston Consulting, it's a win-win.
Jack Pitney writes his Looking for Trouble blog exclusively for the Monitor.