For John Kasich, it's a long way to the presidency ... and to Tipperary
(Read article summary)
Ohio Gov. John Kasich has been heard to exclaim 'It's a long way to Tipperary' when discussing politics. The same could be said of his presidential aspirations.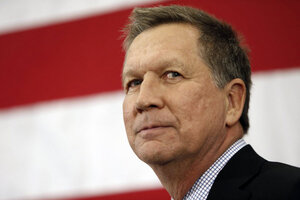 Jim Cole/AP/File
"It's a long way to Tipperary." A classic British song, popularized by soldiers in World War I, that has found its way into political circles as a synonym for "let's not rush to judgment."
With the United Kingdom's general election occurring this week, we thought it would be appropriate to bring up this one. The song – now the longest-earning tune in musical history, collecting money from ringtones and YouTube – soared to fame after Allied troops in France made it one of their favorite marching songs. Singer John McCormack recorded the first version, which can be heard on the soundtrack to the movie "Titanic."
President Ronald Reagan quoted from the song in a 1984 address in Ballyporeen, Ireland. "One of your townsmen sang me a bit of a tune … and a few lines stuck in my mind," Reagan told locals. "They went like this – not that I'll sing – 'And I'll never more roam, from my own native home, in Tipperary so far away.'''
These days, Ohio Gov. John Kasich, who is weighing a 2016 presidential bid, is especially fond of dropping the phrase in the wait-and-see context. The Columbus Dispatch recently observed that "It's a long way to Tipperary" is "one of his favorite clichés." He has used it to dismiss questions about the Republican-dominated state House revising his proposed budget's plans for school funding and taxes, as well as to avoid speculating about a controversial legislative measure that would ban abortion once a fetus's beating heart could be detected.
Aaron David Miller of the Woodrow Wilson International Center for Scholars also recently used it to discuss the Obama administration's agreement with Iran over reining in that country's nuclear ambitions. "The good news is that months of negotiations lie ahead," Mr. Miller wrote. "But that's the bad news too. It's a long way to Tipperary still, and not to put too fine a point on it, but this is by no means a done, let alone a good, deal yet."
Who's the next person in politics likely to use the expression? It has to be Martin O'Malley. The ex-Maryland governor is an accomplished singer who has had a Celtic folk-rock band for years. And he's already started reminding everyone that a long time remains before Hillary Clinton can officially become the Democratic presidential nominee.
Chuck McCutcheon and David Mark write their "Speaking Politics" blog exclusively for Politics Voices.