With Democrats lacking enthusiasm, will Tea Party help or hurt?
A new poll showing an 'intensity gap' between Democratic and Republican voters raises questions about the Tea Party's impact ahead of 2010 Congressional elections.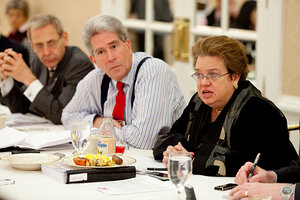 Michael Bonfigli/Special to The Christian Science Monitor/File
A new poll indicates that Democrats currently show far less enthusiasm about voting in the 2010 Congressional elections than Republicans, raising questions about whether the influence of Tea Party candidates will help or hurt President Obama's party.
The latest George Washington University Battleground Poll, released at a Monitor-sponsored breakfast Wednesday, shows only 62 percent of Democrats say they are very likely to vote in November while the figure for Republicans is 76 percent.
"The most sobering data that we have in here is how much significantly more energized the Republicans are and the independents frankly than the Democrats," says Celinda Lake of Lake Research Partners. The firm works for Democratic clients and conducts the poll with the Tarrance Group, a Republican consulting firm.
If the intensity gap were to hold, it could increase the losses Democrats are expected to suffer in the House and Senate this November. If the loss of seats were sufficiently large, Democrats could lose control of one or both Congressional chambers.
"I think it was a calculation on the part of the Democrats in the House and the Senate that passing health-care reform would undo the big problem – kind of the elephant in the room in this election – which is the lopsided intensity in terms of the vote, Republican versus Democrat," says Tarrance Group President Ed Goeas.
Mr. Goeas says there was a brief uptick in Democratic enthusiasm after the health care vote. "But it appears that was very, very short lived. In this survey we see a 14 point gap between the intensity of the Republicans and the intensity of the Democrats," he says. That is twice the enthusiasm gap than during a comparable period in 1994 when Democrats lost control of the House. A key question, Goeas says, "is how long will this last. Will that intensity be there [in November]? My sense is it will be."
While noting that Democrats remain in a "precarious position" Ms. Lake observed that, "There is a central challenge for the Republicans as well in this data and that is the Tea Party." Some 65 percent of Republican voters questioned in the Battleground Poll had favorable views of the Tea Party, while they gave their own party members in Congress a 55 percent favorable vote. By contrast, 72 percent of Democrats give favorable ratings to their party members in Congress.
"So when you look at the Tea Party, that is a substantial challenge to the Republicans. It can be divisive in their primaries," Lake said. Democrats' "biggest hope is for a record number of third party candidates from the Tea Party, because I think that would take a margin that will be the margin of victory in a lot of congressional seats."
Not surprisingly, her Republican polling colleague takes a decidedly different view of the Tea Party's likely impact on November's elections. "There will be no leaders to the Tea Party," Goeas said. "What there will be is a consensus and a belief and a direction that is much deeper ... than just the activists that you see out on the street."
"Whichever party does the best job of tying into that mood, as opposed to trying to lead that mood, is going to be successful," Goeas argued. "Right now, that mood is against higher spending, is against mandates coming into the states, and is going to be very heavily against taxation." All of those issues have historically favored Republicans. "I see nothing but good for the Republican Party," he said.
The Battleground poll was conducted April 5-8 and surveyed 1,000 registered likely voters. It had a margin of error of plus or minus 3.1 percent.