NRA president: Foes using 'emotion' of Newtown shootings to spur gun control
Opponents of the National Rifle Association 'hope to use emotion' to achieve an 'antifirearm agenda' in the wake of the school shootings last month in Newtown, Conn., NRA President David Keene said Thursday.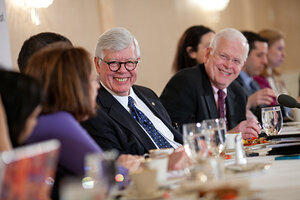 Michael Bonfigli/The Christian Science Monitor
NRA President David Keene has led the National Rifle Association since 2011. He was chairman of the American Conservative Union from 1984 to 2011. He spoke at the Jan. 31 Monitor Breakfast. 
Former US Rep. Gabrielle Gifford's dramatic call at a Senate hearing for action on gun violence: 
"We may disagree on what would be effective, what can be done within the context of the rights of innocent Americans. But I think we all agree on the goal."
The forces behind the gun control battle: 
"It is not about crime.... It is about your view of firearms and your view of the Second Amendment and your view of whether individuals should have a right to own firearms and protect themselves. So it is much more difficult than what we might think if we were sitting down and having an empirical discussion about what do we do about criminals." 
Whether the Dec. 14 school shooting in Newtown, Conn., has affected the political environment surrounding gun control:
"I think that our opponents hope this time is different in the sense that they hope they can use emotion to achieve an antifirearm agenda that they haven't been able to in the past."
Why the NRA opposes a universal system of background checks on gun sales: 
"The current system is not operating correctly now.... You get to a point where you are getting nothing as a result of it and while it sounds good, it doesn't work."
Critics who say the NRA is pushing the Republican Party out of the mainstream, hurting the GOP's chances of recapturing the White House and controlling US Supreme Court appointments:
"The idea that the position the National Rifle Association takes is an extremist position or that we cater to the extremists is simply wrong."