Census 2010: campaign urges Americans to fill out the form
Government officials kicked off a $130 million campaign Monday to encourage public awareness of Census 2010.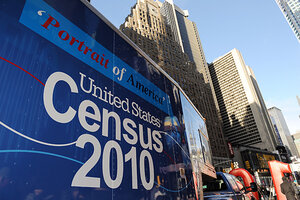 Stan Honda/AFP/Newscom
To all Americans: Your census form will be in the mail this spring – and please take 10 minutes to fill it out.
That was the message on Monday when government officials kicked off a $130 million campaign in Times Square in New York to encourage public awareness of the census. As the campaign gathers speed, it will be hard to miss: Vehicles promoting the census will crisscross the United States, and ads for the census will run in nearly every form of communication.
In late January, census forms will arrive in the most remote parts of Alaska. But most Americans will receive them by mid-March. If you somehow forget to fill out the form or stick it in the mail, one of 800,000 part-time census takers will come knocking on your door.
The census – a once-in-a-decade event – has a big impact. It will determine how many representatives each state will have in the US House. The US government will also use the census results to determine how to divvy up some $400 billion in annual federal spending for such things as education, transportation, human services, and medical programs.
"The 2010 Census is enormously important," said Secretary of Commerce Gary Locke, speaking at the Times Square event. (The Census Bureau is part of the Commerce Department.) "It will have an impact on people and communities all across America," he added.
In the last census, taken in the year 2000, 67 percent of the US answered the survey. In general, those who don't answer the survey make that decision because they are afraid the information might be used by the government to track them down or might be used for some other bureaucratic use.
But the information on the form will not be shared with law-enforcement agencies or other government agencies such as the Internal Revenue Service, Secretary Locke says. "All the information that is provided in this form is absolutely confidential," he said.
People living in cities have been less willing to fill out the forms or answer questions when compared with those living in suburbs and rural areas. For example, 55 percent of New Yorkers filled out the census in 2000.
This relatively low participation rate prompted New York's mayor, Michael Bloomberg, to call on all residents to be counted.
"There is nothing to be afraid of," he said Monday. "New York has everything to gain."
Using results from the census, government officials will probably learn more about the number of people who have gone through a home foreclosure: The form will ask if the residence being surveyed is housing extra people who don't have a permanent place to stay.
Also, in an attempt to include homeless people in the count, census takers will canvass city streets at certain times.
By this spring, the Census Bureau will be one of the largest hirers of temporary workers. The jobs will be sought after since the census says it will pay a healthy wage. In New York, for instance, some of the 25,000 people hired will receive at least $20 per hour.
To qualify for one of the jobs, an individual will have to take a test and pass it.
Even if you don't get a job with the census, some 18 million people will get a chance to see the census vehicles. Mayor Bloomberg toured one of the rigs, which was called "Mail It Back," and proclaimed it "the grooviest tour bus to show up since Willie Nelson came to New York a few years ago."
-----
Follow us on Twitter.